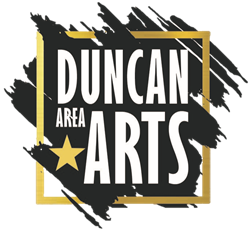 (PRWEB) December 14, 2018
When:
Performers Reception: Friday, January 18 2019, 6:30 PM in the Chisholm Trail Hall of the Simmons Center. Meet and greet with show performers and enjoy art by local artist.
Hall of Fame Spectacular (show): Saturday, January 19 2019, 6:30 PM in the Simmons Center Theater. A Grammy style show of performances and recognition.
What you need to know:
1. Accomplished performers from Duncan will be the Headliners of the Spectacular:
David Briscoe
Chris Cowan
David Hooten
Laura Gossett Stockton
Danielle Flesher Webb
2. Between performances, Chisholm Trail Arts Council, Duncan Little Theatre, Heartbeat Dance House, and Powerhouse Academy will honor individuals who have positively impacted their organizations.
3. Grand finale: Induction of the 1st class to the Duncan Area Arts Hall of Fame.
Chisholm Trail Municipal Band
Civic Auditorium Foundation/ Civic Capers
Ann Simmons Alspaugh
McCasland Foundation
Gay Faulkenberry
The Good Ole Geezers Blue Grass Duo
David Hooten
Tsianina Storms
Purchase tickets from the Simmons Center (5802522900) in 3 tiered prices: $25, $50, $75, plus $20 for the meet-the-performers Reception on Friday night.