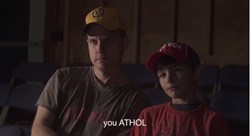 Boston, MA (PRWEB) January 22, 2014
Singer-songwriter Dana Edelman and son, Jaiden Edelman, release "The Massachusetts Song (You Athol)" video. Edelman got the idea for the song during frequent family road trips from Martha's Vineyard to New York, when he started playing around with the syllables of the town names on passing roadsigns as a creative way to pass the time. Before long, he had the majority of the chorus for what would soon become: "The Massachusetts Song (You Athol)."
Dana recorded the song with Jaiden (age 11) in his home studio, and, when it became a local hit, Edelman decided to turn it into a video with the help of friend and director Gerry Wenner, who has done music videos for artists such as Reba McEntire, Harry Connick Jr, and Trisha Yearwood. Approaching 40,000 views, this heartwarming father/son team is gaining their share of attention from the bay state.
A songwriter his whole life, Dana started performing in his twenties and has released a few CDs of his own. Recently, he has found success composing for advertising and film, while continuing to perform. He speaks highly of working with his son Jaiden, who is a gifted singer and emotive performer and enjoys singing with his dad.
You can learn more about Dana Edelman at http://www.danaedelman.com.
For more information, images, or to arrange for an interview, please contact Melissa Zeigler at Powderfinger Promotions: melissa(at)powderfingerpromo(dot)com.
Powderfinger Promotions–Independent Radio Promotion and Publicity. Since being founded in October 1994, Powderfinger has come to be regarded as a top indie radio promotion and publicity firm with ties across North America.