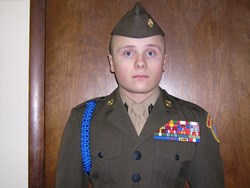 I joined the Young Marines because I wanted to do things that not everyone got a chance to do. - Sgtmaj Austin B. Loppe
(PRWEB) February 03, 2014
The Young Marines youth organization has named its Division 1 "Young Marine of the Year" – YM SgtMaj Austin B. Loppe, 16, of Mingo Junction, OH. Loppe is a member of the Tri State Young Marines of Weirton, West Virginia. He is a junior at Indian Creek High School in Wintersville, OH.
"With this honor, I am no longer just representing my unit but now the entire 1st Division," he said.
Loppe will represent his division in competing with five other regional Young Marines of the Year for the title of National Young Marine of the Year which will be announced at the adult leaders' conference for Young Marines in June in Washington, D.C. He will have to answer questions about his duties and current events.
He joined the Young Marines at age 13 and currently, he is in his fourth year in the program. He credits the Young Marines for making him a better person. It has taught him respect, perseverance and discipline. He strives to do his best every day and to never quit.
Loppe has been given honors within his division including the Making a Difference Award presented by the Mayor of Follansbe, WV. He has been a Young Marine recruit instructor, and he guarded the Moving Vietnam War Memorial Wall from 11 p.m. until 7 a.m. for seven days. He led a Zodiac boat team and completed maneuvers in one minute. He's been part of the color guard for three years, named Unit Iron Mike, participated in Junior Leadership School and had the privilege of presenting a folded flag to a widow of a fallen Marine.
"I joined the Young Marines, because I wanted to do things that not everyone got a chance to do," he said. "Also I have been interested in the military ever since I was little."
As a Young Marine of the Year, Loppe is invited to travel to Guam and Iwo Jima for the annual Reunion of Honor trip. He will join the five other division winners named Young Marines of the Year, the two winners of the Young Marines' annual Jimmie Trimble scholarship; the national Young Marine of the Year SgtMajor Dakota Richter; and Mike Kessler, national executive director and CEO of the Young Marines.
"It is a great honor to travel to Guam and Iwo Jima," Loppe said. "Just knowing that I will be standing in an area where a major part of history took place makes me want to pack my bags and leave now. Also knowing that we will be with veterans makes the trip seem more special."
Outside of the Young Marines, he likes to ride four wheelers, fish, camp and hunt.
"I am currently in the wrestling program at my high school. I also am in charge of an airsoft team and compete in many tournaments in Pittsburgh. I attend the Methodist church in my community. Also at my high school, I participate in Key Club and the Foreign Language Club with which I went to Paris, France. I am in the National Honor Society and participate in a post-secondary program with my high school."
Loppe is the son of Angela Loppe and Bill Goodrich.
How it works
The Young Marines organization is divided into six divisions across the United States. Each Young Marine goes through a series of selection processes starting at the unit level, going through battalion, regiment and on to the division. At the division level, the packages (portfolios) of the final candidates are reviewed for consideration.
Annually, one Young Marine of the Year is selected from each division. From these six winners, only one will be named the national "Young Marine of the Year" which will be announced in May, 2014.
Mike Kessler, national executive director and CEO of the Young Marines, calls each division winner to congratulate her or him. Then he invites each to travel to Guam and Iwo Jima for the annual Reunion of Honor trip.
"The trip gives each division winner a chance to showcase the program and the good work done by the Young Marines with veterans," Kessler said. "The trip serves as an invaluable history lesson unable to be found in any book. Also, I get to know them and see how each interacts with others. If selected as the National YMOY, he or she will work for me, so this piece is important."
The Young Marines is a national non-profit 501c(3) youth education and service program for boys and girls, age eight through the completion of high school. The Young Marines promotes the mental, moral and physical development of its members. The program focuses on teaching the values of leadership, teamwork and self-discipline, so its members can live and promote a healthy, drug-free lifestyle.
Since the Young Marines' humble beginnings in 1959 with one unit and a handful of boys, the organization has grown to over 300 units with 10,000 youth and 3,000 adult volunteers in 46 states, the District of Columbia, Germany, Japan and affiliates in a host of other countries.
For more information, visit the official website at: http://www.YoungMarines.com.