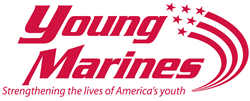 We are active in many community events, particularly those associated with patriotic holidays and those associated with our veterans, said Virgil L. Young, Jr. division commander of Lt. Alexander Bonnyman Young Marines
Washington D.C. (PRWEB) August 20, 2014
The Young Marines youth organization announced the "National Unit of the Year" – Division Three's Lt. Alexander Bonnyman Unit in Knoxville, TN, under the command of Virgil L. Young, Jr.
The announcement was made at the annual Adult Leaders Conference held in June, 2014, in Washington D.C.
The Young Marines organization is divided into six divisions across the United States. Each Young Marine unit is led and guided by adult volunteers, some of whom have had careers in the military. Annually, one unit is selected from each division. From these six winners, one is named the official "National Unit of the Year."
"I started getting texts from our unit's adult leaders attending the conference in Washington D.C. as soon as the award was announced at the conference banquet," Unit Commander Young said. "I couldn't attend, because I was helping conduct a week long leadership school in Tennessee involving 111 Young Marines and adult leaders. But when I saw those texts, I felt a surge of pride in our Young Marines and the committed adults who put in an incredible number of hours supporting them."
This outstanding unit was founded in 1997 in Knoxville, TN, and named after Lt. Alexander Bonnyman, a World War II US Marine Medal of Honor recipient who grew up in Knoxville. By late 2011, the unit had become so large - more than 100 Young Marines - that it was decided to split in two – the Lt. Alexander Bonnyman unit and the new North Knoxville Unit.
Today, the Lt. Alexander Bonnyman unit has 49 youth members and 17 adult leaders, all of whom are volunteers. The unit generally drills (meets) two Saturdays a month in Maryville, TN but is involved in numerous other activities, as well.
"We are active in many community events, particularly those associated with patriotic holidays and those associated with our veterans. I think it has become known through the years that if the Lt. Bonnyman Young Marines are involved, it – an event, a leadership school, a color guard – will be done well," Unit Commander Young said. "I believe we have developed a tremendous cadre of young people and adults, and this honor confirms we're one of the best units in the country."
The Lt. Alexander Bonnyman unit's efforts in drug demand reduction, a primary tenet of the Young Marines, are exemplary. The unit goes above and beyond for National Red Ribbon Week, held each October to teach school children and youths to avoid drug use. The week was established in memory of Enrique "Kiki" Camarena, an agent with the U.S. Drug Enforcement Administration (DEA) who was murdered in 1985 while he was working in Mexico.
The "National Unit of the Year" award also recognizes the Lt. Bonnyman unit's consistent presence and participation in national-level events such as the annual United Nations NGO summit, the Military Order of the World Wars Young Leadership Conference, the National Young Marines Leadership Academy and many other events.
"I congratulate the Young Marines and adult volunteers of the Lt. Alexander Bonnyman Unit on being named 'National Unit of the Year'," said Mike Kessler, national executive director and CEO of the Young Marines. "They clearly demonstrate the spirit and work ethic needed to create the critical mass necessary to promote positive social behaviors. Such efforts have made significant improvements on all fronts, and it is a pleasure to bestow this honor."
The division winners are:

Division One: Blackstone Valley Young Marines, Milford, MA
Division Two: Col. Wesley Fox Young Marines, Sterling, VA
Division Three: Lt. Alexander Bonnyman Young Marines, Knoxville, TN
Division Four: Douglas County Young Marines, Parker, CO
Division Five: Lapeer County Young Marines, Lapeer, MI
Division Six: Columbia River Young Marines, Kennewick, WA
The Young Marines is a national non-profit 501c(3) youth education and service program for boys and girls, age eight through the completion of high school. The Young Marines promotes the mental, moral and physical development of its members. The program focuses on teaching the values of leadership, teamwork and self-discipline, so its members can live and promote a healthy, drug-free lifestyle.
Since the Young Marines' humble beginnings in 1959 with one unit and a handful of boys, the organization has grown to over 300 units with 11,000 youth and 3,000 adult volunteers in 46 states, the District of Columbia, Germany, Japan and affiliates in a host of other countries.
For more information, visit the official website at: http://www.YoungMarines.com.