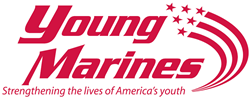 The Young Marines Alumni Association connects the past with the present and vice versa," said Edgar Huff, executive director of the new association. "It's so important to tell how the Young Marines program has strengthened lives of former members."
Washington, D.C. (PRWEB) October 27, 2014
The Young Marines youth organization now has an Alumni Association for its more than 60,000 former members. Former YM SgtMajor Edgar Huff, who was the 2004 National Young Marine of the Year, has been named executive director of the new association.
The Alumni Association is a way to show how the Young Marine program has impacted former members as they go into and through adulthood. Whether through donations, sponsoring, volunteering, networking, or simply staying informed, the Alumni Association brings together former members.
"It connects the past with the present and vice versa," Huff said. "It's so important to tell how the Young Marines program has strengthened lives of former members."
"We have wanted to form an Alumni Association for a long time and discussed it at our symposiums," said Mike Kessler, national executive director and CEO of the Young Marines. "Edgar Huff is the perfect choice to lead this important initiative. He has stayed with the organization and has been a key component to the successes we have enjoyed at our Leadership Academy. A lot of people already know him, and he adds legitimacy to the project."
The Young Marines is a national non-profit 501c(3) youth education and service program for boys and girls, age eight through the completion of high school. The Young Marines promotes the mental, moral and physical development of its members. The program focuses on teaching the values of leadership, teamwork and self-discipline so its members can live and promote a healthy, drug-free lifestyle.
Since the Young Marines' humble beginnings in 1959 with one unit and a handful of boys, the organization has grown to over 300 units with 11,000 youth and 3,000 adult volunteers in 46 states, the District of Columbia, Germany, Japan and affiliates in a host of other countries.
For more information, visit the official website at: http://www.youngmarines.com/Alumni.