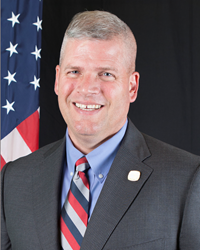 "Bill brings leadership, enthusiasm and vision, and I am very excited in knowing that our organization is in great hands," Kessler said. "His knowledge of non-profits and fiscal management are well documented, as he runs a charter school in New Orleans."
Washington D.C. (PRWEB) May 12, 2015
The Young Marines youth organization announced that William P. Davis, Colonel, United States Marine Corps (Retired), will take the helm as national executive director and CEO of the Young Marines. The announcement was made at the Adult Leaders' Conference held May 6 - 10, in Las Vegas, Nevada.
Davis assumes full duties as national executive director on Jan. 1, 2016. He replaces Mike Kessler who is retiring after 16 successful years in the position. Kessler is responsible for creating the modern Young Marines program, so his will be big boots to fill.
"Bill brings leadership, enthusiasm and vision, and I am very excited in knowing that our organization is in great hands," Kessler said. "He is a natural fit to assume responsibilities. His knowledge of non-profits and fiscal management are well documented, as he runs a charter school in New Orleans. I look forward to watching the Young Marines work towards the goal of becoming a household name."
William P. Davis is an accomplished executive whose commitment to young people is of paramount importance during his career. He is also highly regarded for strategic thinking, sound financial management, marketing expertise and exceptional project management skills. He is a dynamic leader who brings military expertise and business acumen to the Young Marines.
In fact, Davis is no stranger to the Young Marines. In the late 1990s, he volunteered as the parent support and training officer for the Slidell Young Marines in Louisiana. He organized Young Marines training events and tours to units and bases. In addition, he provided classes for the annual regimental encampment as well as at recruit training events.
From 2011 to the present, Davis has been the commandant of the New Orleans Military and Maritime Academy (NOMMA), New Orleans, La. He operates as the CEO of the
non-profit academy and superintendent, and he reports directly to the Louisiana State Board of Education as a standalone school district. All students are cadets in the Marine Corps Junior Reserve Officer Training Corps which is unique to both the State of Louisiana and the Marine Corps.
In his position as CEO of NOMMA, Davis successfully developed multiple grants and other financial support mechanisms through personal initiative with local businesses and nonprofit organizations. After four years of operation, the academy had the highest levels of parental satisfaction. Test results and student performance improvement ranked well above averages by more established schools.
"While at NOMMA, I worked with the Young Marines, and we forged strong bonds between the two organizations," Davis said. "It took an amazing opportunity for me to resign from NOMMA. With the Young Marines, I have the chance to positively influence youth on a national level."
From 2006 – 2011, Davis was assistant chief of staff for facilities for the Marine Forces Reserve in New Orleans. He directed the construction, maintenance, safety and environmental oversight for the 187 locations of the Marine Corps Reserve across 48 states and the territory of Puerto Rico.
He previously served as the operations officer for the Joint Task Force Civil Support, U.S. Northern Command, Ft. Monroe, VA, which lends military support to civilian authorities in the aftermath of a crisis. During Hurricane Katrina operations, Davis worked extensively with federal, defense, state and local agencies to craft policies for leaders on the ground operating in a time sensitive and chaotic environment.
In addition, Davis was chairman of the Quantico School Board, Quantico, VA from 2001 - 2004.
"Bill Davis brings not only significant leadership and management experience of running a non-profit youth organization," said Bill Smith, chairman of the Board of Directors for the Young Marines, "but also the passion for assisting the youth of America."
Davis earned a bachelor of arts degree in Economics in 1987 from the University of Washington, Seattle, WA. In 1994, he was awarded a master of science degree in administration from Troy State University, Norfolk, VA. He received a second master of science degree in National Security Strategy in 2004 from the National War College, Washington D.C.
"The Young Marines have a great mission," Davis said, "and it's important to our nation."
Davis will move to Washington D.C. with his wife, Brenda, and youngest son, Bradley.
The Young Marines is a national non-profit 501c(3) youth education and service program for boys and girls, age eight through the completion of high school. The Young Marines promotes the mental, moral and physical development of its members. The program focuses on teaching the values of leadership, teamwork and self-discipline so its members can live and promote a healthy, drug-free lifestyle.
Since the Young Marines' humble beginnings in 1959 with one unit and a handful of boys, the organization has grown to over 300 units with 10,000 youth and 3,000 adult volunteers in 46 states, the District of Columbia, Germany, Japan and affiliates in a host of other countries.
For more information, visit http://www.YoungMarines.com.