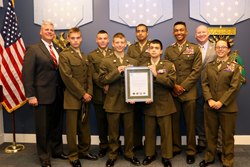 Last year the Young Marines as a national organization won the Fulcrum Shield for our innovative 'Closing the Gate on Drugs' program. This year a local unit won the award for their efforts on the ground which has had an impact on thousands of young people
(PRWEB) October 14, 2016
The Young Marines, a national youth organization, garnered its eighth Fulcrum Shield award from the United States Department of Defense. Specifically recognized this year is the East Valley Young Marines of Mesa, Arizona. The award was presented on Thursday, October 13, 2016, at a special ceremony in the Hall of Heroes at the Pentagon, Army Navy Drive and Fern Street, Arlington, Virginia.
The award is given annually by the Department of Defense and recognizes military-affiliated youth organizations around the world that have made intensive efforts at spreading anti-drug messages in local communities.
In 2014, the Young Marines unveiled "Closing the Gate on Drugs" on a national scale. It consists of lessons that help young people learn and practice new skills and strategies for resisting the gateway drugs. These "gateway drugs" include tobacco, alcohol, inhalant abuse, marijuana and over the counter/prescription medication.
"Last year the Young Marines as a national organization won the Fulcrum Shield for our innovative 'Closing the Gate on Drugs' program," said Bill Davis, national executive director and CEO of the Young Marines. "This year a local unit won the award for their efforts on the ground which has had an impact on thousands of young people in Arizona."
The East Valley unit partnered with the Mesa Police department for training. Unit members also developed a partnership with Boys and Girls Clubs from Apache Junction, Gilbert, Mesa, Tempe, and Scottsdale, scheduling monthly meetings to present more than 50 Drug Demand Reduction (DDR) classes throughout the year.
The East Valley Young Marines DDR outreach included more than 43,500 children, teens and adults with face to face contact through presentations and campaigns; and approximately 330,000 indirect contacts.
"We are extremely proud of East Valley Young Marines for their passionate efforts in educating the local community on the hazards of gateway drugs through 'Closing the Gate on Drugs'," said Davis. "Their message reached thousands of adults and youth, making a real impact that extends beyond just our members."
"In a 22-year career in law enforcement, I never arrested anyone for methamphetamine, heroin, cocaine or any other perceived 'more dangerous' drugs that didn't start abusing one of the gateway drugs first," said Joe Lusignan, the Young Marines' drug demand reduction resource officer. "We focus on the gateway drugs because these are the drugs our school age children are more likely to be exposed to and tempted by."
"This group of Young Marines has worked long and hard, teaching and becoming leaders in the fight against drugs," said Joseph M. Arpaio, Sheriff, Maricopa County. "They have been present in our schools in Mesa, Tempe, Chandler, Gilbert, Fountain Hills and Queen Creek, teaching their peers and setting a high example for other youth to follow."
About the Young Marines
The Young Marines is a national non-profit 501c(3) youth education and service program for boys and girls, age eight through the completion of high school. The Young Marines promotes the mental, moral and physical development of its members. The program focuses on teaching the values of leadership, teamwork and self-discipline, so its members can live and promote a healthy, drug-free lifestyle.
Since the Young Marines' humble beginnings in 1959 with one unit and a handful of boys, the organization has grown to 281 units with 9,600 youth and 2,400 adult volunteers in 40 states, the District of Columbia and Okinawa with affiliates in other countries.
For more information, visit the official website at: http://www.YoungMarines.com.