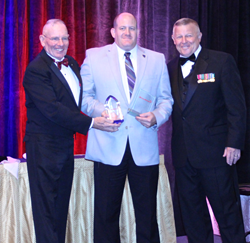 'Scott personifies the 'we're-in-it-for-the-kids' philosophy,' said Mike Kessler, national executive director and CEO of the Young Marines. 'He is unselfish and volunteers outside of his unit to assist with Young Marine-related activities.'
Washington D.C. (PRWEB) August 28, 2014
The Young Marines youth organization has named Scott Riley the "National Adult Volunteer of the Year" at the annual Adult Leaders Conference held in Washington D.C. Riley is the Unit Commander of Columbus Young Marines from Division 5 located in Columbus, IN.
"Scott personifies the 'we're-in-it-for-the-kids' philosophy," said Mike Kessler, national executive director and CEO of the Young Marines. "He is unselfish and volunteers outside of his unit to assist with Young Marine-related activities with other units in other states. What more could you ask of a volunteer? He is very committed and highly respected for his dedication to the kids and to the program."
Riley first volunteered with the Young Marines in 2003, in order to better bond with his sons who had joined the program at the same time. Over the last 11 years he has positively affected not only his sons' lives but the lives of the youth in his community.
"The reason I keep doing this is that the Young Marines program continues to give back to me and my family," he said. "It has helped us stay focused through some pretty rough times."
Riley discovered the Young Marines through his oldest son. At the time, the family was struggling with the addiction of the boys' biological father, and the sons were struggling with Riley becoming a father figure in their home.
The focus of the anti-drug program and the connection with the Marine Corps were tremendous catalysts for the good relationship Riley enjoys today with all three sons. He adopted the boys after their biological father no longer contacted them.
"This program gave us a means to stay together and united as a family," Riley said. "My wife, Trena, was and remains the Unit Adjutant. The Young Marines provided us with a way to keep the boys minds off of the problems that they were having. It is a great reason why my sons are great young men today. Two of them joined the Marine Corps, and one is graduating from high school this year, largely in part, because of this program."
The year Riley became Unit Commander; Trena was diagnosed with Lupus. The couple faced many harrowing decisions, and the future was very uncertain.
"The Young Marines family was always there to support and help us with an ear to listen or a shoulder to lean on," he said. "We used the program to help keep us working every day towards something that was positive. Just seeing the kids every week at drill would brighten Trena's week. None of the kids knew she was ill, which made it more satisfying when she would get a hug or a "thank you" from a Young Marine."
Fortunately Trena is in remission, but the whole time they were working through all of the treatments and surgeries, they were able to always say, "We have to get through this for our kids," meaning both their own children and the young people of the unit.
"The kids, all 68 of them, are 'our kids'" Riley said. "The best perk is watching a young kid grow into a leader. There is that moment when it all seems to make sense, and they understand everything they have been taught and how it works. That's an awesome thing to be a part of."
Riley said his main goal for the unit is to be named "National Unit of the Year" and to move the unit's drill location to an Army Base near its current location, Camp Atterbury. He also plans to start a marksmanship team.
"We already have been given a grant from the state of Indiana National Rifle Association (NRA) to purchase .22 rifles and pistols, as well as hearing and eye protection and cases for the weapons and ammunition," Riley said. "One of our staff members is trained as a marksmanship instructor and Range Safety Officer."
Riley was an active duty Marine from 1992 to 1999. He was stationed in Beaufort, SC, as part of the Marine Fighter Attack Squadraon-115 (VMFA-115) and Quantico, VA, first with Headquarters and Service Battalion (H&S Battalion). Then he transferred to Special Purpose Marine Air Group Task Force (Experimental) (SPMAGTF(X) which was part of the Commandant of the Marines Corps Warfighting Laboratory.
The Young Marines organization is divided into six divisions across the United States. Each Young Marine unit is led and guided by adult volunteers, some of whom have had careers in the military. There are nearly 3,000 active and registered adult volunteers with The Young Marines.
Annually, one adult volunteer is selected from each division. From these six winners, one – Scott Riley - is named the official "National Adult Volunteer of the Year."
Other division winners are:

Division 1 – Aimee Fagan, Blackstone Valley Young Marines, MA
Division 2 – Adam Ridgeway, Maryland Regiment Young Marines, MD
Division 3 – Dana Cozzens, Swansboro Young Marines, NC
Division 4 – Altrice Taylor, Orleans Parish Sheriff's Office Unit 3, LA
Division 6 – Brian R. Hildebrant, Lewis & Clark Young Marines, WA
The Young Marines is a national non-profit 501c(3) youth education and service program for boys and girls, age eight through the completion of high school. The Young Marines promotes the mental, moral and physical development of its members. The program focuses on teaching the values of leadership, teamwork and self-discipline, so its members can live and promote a healthy, drug-free lifestyle.
Since the Young Marines' humble beginnings in 1959 with one unit and a handful of boys, the organization has grown to over 300 units with 11,000 youth and 3,000 adult volunteers in 46 states, the District of Columbia, Germany, Japan and affiliates in a host of other countries.
For more information, visit the official website at: http://www.YoungMarines.com.