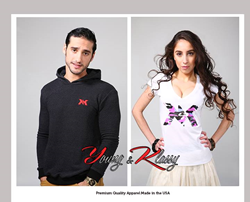 Get Up, Dress Up and Conquer
San Francisco, CA (PRWEB) April 22, 2014
California-based clothing company Young & Klassy Inc. has just launched their unique clothing line on the popular crowd funding platform Kickstarter. Young & Klassy is looking to revolutionize user experience using high quality fabrics that provide ultimate comfort and fit. All funds received through Kickstarter will assist Young & Klassy in starting their initial production run.
Young & Klassy started their journey with an objective to improve the quality of clothing people wears on a regular basis. As an emerging fashion brand, the company is dedicated to offering both comfort and style by bringing together art, people, and causes that they believe in. With a burning desire to become a leading domestic supplier in the market, Young & Klassy is offering highly fashionable and high quality clothing with the latest prints, colors, and finishes. Unlike hundreds of clothing lines in America, Young & Klassy offers proprietary textiles and looks to continually update their production and design.
In the present day American apparel industry; there is a serious shortage of clothing brands that are actually made in USA. Many well known clothing brands are now made in China, and different other countries to maximize profit. However, this means a compromise in terms of quality. Young & Klassy takes pride in being different from all these brands by manufacturing all their products in America. The company is also committed to creating jobs for the young and talented designers and fashion professionals in America.
Over the years, different crowd funding platforms such as Kickstarter have emerged as a viable funding alternative for many promising startup ventures. Young & Klassy has created a set of well planned stretch goals for their Kickstarter campaign. The initial funding target of $35,000 is to start the production and manufacturing with minimum order quantity. A stretch goal of $50,000 has been set to introduce the company's limited edition line from drafts. Finally, a stretch goal of $100,000 has also been created for brand expansion and the opening of a store. Several lucrative rewards have also been planned for the backers.
Young & Klassy has done all the hard work and now they need one last push to get started. Appealing to all fashion enthusiasts for their support, a senior official from the company said, "All the foot work has been done, and now we are ready for our journey. Now to get us over the finish line, this is where we're asking for your support!"
To find out more about Young & Klassy or to lend a helping hand to them, please visit https://www.kickstarter.com/projects/youngandklassy/young-and-klassy-premium-quality-apparel-made-in-t.
About Young & Klassy: Young & Klassy Inc. is a newly established California-based clothing company that has a goal of providing the highest quality apparel that fits. Their goal is to create jobs in U.S and help the art students in getting an internship in this fun and upbeat company.