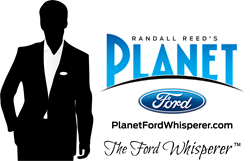 "We are so proud to be a part of this incredible mission. The passion that Lil Jesse brings in all that he does is a beautiful thing to watch. His love and desire to bring happiness to those suffering is something we all should aspire to." - Planet Ford 59 General Manager John Centner
HOUSTON (PRWEB) November 27, 2018
An inspiring young cancer survivor named Lil Jesse Gutierrez is paying it forward with the help of Randall Reed's Planet Ford in Humble, Texas. Lil Jesse's family won the #PlanetFordWhisperer contest, and the grand prize was a Ford F-150. It's a big red truck, ready for a big-sized delivery.
Lil Jesse says he wants to spread some Christmas cheer to other children at the Houston hospital where he was treated. He's called on the help of The Ford Whisperer Randall Reed and Planet Ford. Lil Jesse is a true inspiration, having battled non-Hodgkin's lymphoma cancer and won. He's been in remission for more than two years. The 10-year-old performs as a rapper at venues across Texas, and his ultimate dream after winning the Ford F-150 was to deliver toys to young patients battling cancer at MD Anderson Cancer Center in Houston.
Planet Ford and Houston Humanitarian Award Recipient Mythiquer Pickett have teamed up with Lil Jesse for the special toy drive. They're trying to brighten the lives of young cancer patients who can't be home for the holidays because they're undergoing treatment. Pickett says, "Contagious positivity is spreading love, hope, joy and compassion into the lives of people, creating an environment where parents never have to say sorry." Pickett's charity is We See Abilities, in which he gives those with special needs a better quality of life through the joy of sports and community activities.
The public is invited to help by dropping off new unopened toys, now through December 8th at both locations off Hwy 59 in Humble (19000 Eastex Fwy, Humble, TX 77338) and off I-45 in Spring (20403 Interstate Hwy 45, Spring, TX 77388). Then, Lil Jesse and Mythiquer Pickett will load up the back of the F-150 with toys and goodies for delivery December 10th.
The Reeds and Planet Ford are thankful to members of our community and businesses who are contributing to this wonderful cause. Miss USA 2008 Crystle Stewart and the members of her company, Miss Houston Pageant, will help with the toy drive. The TV host and actress has starred in Tyler Perry's "For Better or Worse." Also in attendance will be Miss Houston 2018 Lesha Wincher, who will don the Miss Houston sash and crown, while Crystle will let the kids try on her crown for photos during the toy delivery. Adidas is providing shoes for the kids to kick that cancer out! The shoes will get them moving and assist with rehab therapy. State Farm Insurance is donating backpacks stuffed with a teddy bear. Microsoft Corporation is donating a game console to the pediatric floor, and Benchmark Bank will provide piggy banks for the kids to save for their bright future ahead of them when they leave the hospital. Plus, The Liquor Cabinet is making a monetary donation.
Best of all, local Houston rapper Lil' Flip will escort Lil Jesse to deliver all the toys collected at both Ford dealerships to about 45 pediatric cancer patients at MD Anderson Cancer Center. Planet Ford in Humble's General Manager John Centner says, "We are so proud to be a part of this incredible mission. The passion that Lil Jesse brings in all that he does is a beautiful thing to watch. His love and desire to bring happiness to those suffering is something we all should aspire to."
Help The Ford Whisperer and Jesse make a difference this Christmas with their toy drive and your new unwrapped toy donation, now through Saturday, December 8, 2018!
The Reed family believes it's crucial to give back to the communities in which they work and live. Growing up in an economically challenged home, Mr. Reed knows how important it is for businesses to extend opportunities to area families and the area youth in order to preserve and strengthen local communities. Each Reed family dealership sponsors and participates in local events, various school fundraisers and supports a variety of programs for children and families. "When we all give a little, we can help a lot for both the future of our kids and our community," said Mr. Reed.
Planet Ford & The Ford Whisperer
With over 30 years of experience as a Ford dealer, Randall Reed has truly become a Ford Whisperer. Our multiple award-winning dealerships strive to achieve a pinnacle level of success and recognition by always exceeding our client and associates' expectations and needs. We believe in business being done through skilled craftsman who are passionate loyal advocates, exuding honor, integrity, ethics, and humility giving back to our communities. Our mission is simple… #1 in customer satisfaction and #1 in the hearts of our employees and communities we serve. Together, we all win! The Reed Family celebrated their historic Ford first with every Randall Reed Ford location being awarded the Triple Crown simultaneously and created the PlanetFordWhisperer.com contest to thank the dealership group's world-class customers!
MEDIA CONTACT
Jodie Morris
Corporate Marketing Director
World Class Automotive Group / InLight Medical
jmorris(at)wcao.net
(281) 719-3756