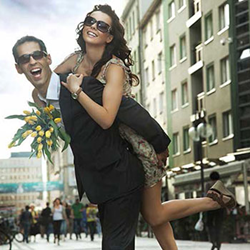 "75 percent of Americans agreed (42 percent strongly) that the home-buying process is complicated. Young homebuyers consider the home-buying process even more complicated, with 86 percent of respondents under 30 years old agreeing." ~ Daren Blomquist
Twin Cities, Minnesota (PRWEB) November 27, 2013
November's U.S. Census housing data tells a story of our younger Americans; homeownership is gaining priority interest. After falling off during leaner times, the national percentage of younger homebuyers who purchase a home skyrocketed up to 36.8 percent in Q3 of 2013. That's an improvement up from 36.3 percent within this 35-and-under age bracket, during the same time period in 2012. Younger Twin Cities homebuyers move past hurdles and reach the dream of homeownership.
"What we are able to learn about younger homebuyer preferences offers key insights to perspective Twin Cities home sellers. Knowing what Millennial home buyers want is helping to shape the things sellers determine to do before selling," says Jenna Thuening, owner of Home Destination. "We are seeing higher numbers of younger Twin Cities home buyers jump through all steps needed to successful gain the status of homeowner."
NeighborWorks America, one of the country's leading housing and community development nonprofit corporations, reports that younger homebuyers think buying a home is complicated. However, quite brave of them, they are not balking at buying a home; they are networking and learning from others how to move forward with purchasing plans.
"The average Twin Cities home buyer seems to look to friends and family first when gathering information on the home-buying process - just like the data indicates, " states Thuening. NeighborWorks' November 20th press release states that survey results show turning to trusted personal relationships is more common amongst buyers than seeking out a professional. Whether it is buying a home or keeping a home, fallout from the housing crisis has not dissuaded Millennial homebuyers from saving up and doing the needed research to buy a home.
Redfin illuminated younger homebuyer trends in a November 14th report that their survey data reveals that 85.3 percent of female homebuyers under 35 were looking to buy a long-term residence, where they planned to live for more than five years, compared to 73.8 percent of their male counterparts. Clearly, younger homebuyers aren't dissuaded by the complications of buying a home; they are taking them in stride.
Additionally, a recent report from the National Association of Realtors (NAR) indicates that young adults under 30 years old are significantly more likely to discuss homeownership with friends and family, with 84 percent choosing that route, while the rate for people older than 55 is just 56 percent. NAR's Q2 2013 Survey of Generational Trends shows younger buyers are more optimistic than any other age group.
A summary from Home Destination about young homebuyer preferences gleaned from all four sources:
1) Among home buyers under 32 years of age, 79 % are young first-time home buyers, compared to only 5% in the pool of individuals purchasing a home between the ages of 67 - 87.
2) Younger home buyers indicate they are making their decision based on the choice to step into homeownership for the privileges it offers.
3) In most residential housing districts, a minimum of 80% of home purchases of those under age 57 selected to buy a detached single-family home, while the number of buyers in the senior age bracket opt to buy a townhome or condo.
4) GenX Homebuyers make up the largest share recent home buyers, second to GenY homebuyers. This represents a belief that it is better to buy a home over rent a home.
5) Younger homebuyers rate the amount of time and convenience required to commute to work from home as key.
6) According to NAR's findings mentioned above, 13 percent of younger homebuyers seek out their Realtor's advice more often for ways to fix up a house in order to resell it for more, whereas only 3 percent of buyers in the age tier of 48 to age 66 do so.
Home Destination helps Twin Cities homebuyers through the process of buying a new home, helping purchasers gain an edge up in complicated buying procedures. For advice and guidance from a Minneapolis residential Realtor when buying or selling a home, call 612-396-7832.