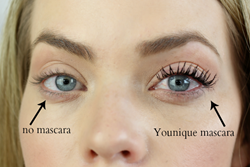 Working with Younique and the other Younique Presenters in the St. Louis area has been fun and rewarding
St. Louis, MO (PRWEB) October 16, 2014
Marci DeArriba is a new presenter in the greater St. Louis area for the Younique cosmetics company, who is known best for their popular Moodstruck 3D Fiber Lashes mascara. This company focuses on selling their products through social media sites like Facebook and Instagram. Younique's 3D Fiber Lash Mascara has rapidly grown in popularity and has even found itself on several television shows and magazines.
Younique Mascara, the company's best selling product, increases eyelash volume and length by 300 percent. All of Younique's products are made from high quality, all natural, mineral based ingredients, but this 3D Mascara is the shining star in the Younique portfolio. "This company seemed like such a great fit for my background in both marketing and esthetics. After doing some research it was clear to me that this was an opportunity I didn't want to pass up," commented Marci DeArriba. "Working with Younique and the other Younique Presenters in the St. Louis area has been fun and rewarding."
"A goal of mine is to help other women find a career they enjoy as much as I do," Marci added. "Through growing a team, I have enjoyed being a leader for other women to do the same. Nothing about this job feels like sales, the products and compensation plan sells itself." Marci is selling these products through her website, at local vendor events in St. Louis and the surrounding areas and on social media.
Customers can earn free makeup by hosting online mascara parties through Marci's Younique site. These parties last for 10 days and provide the party host with a link, in which they get orders through for earning their own product credit and half off items.
Younique is a company that prides themselves on making high quality products that are chemical free, hypoallergenic, carcinogen free, parabin free and cruelty free. All products are also backed with their 'Love It Guarantee.'
About Younique
Younique is the first direct sales cosmetics company to market and sell almost exclusively through the use of social media. Younique's virtual parties bridge the huge world of social media and the traditional home party business model while offering high quality guaranteed products.