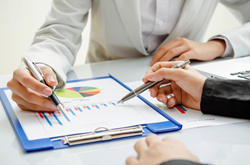 As a small business owner, you need to make sure that your financial planning services grow along with your business - otherwise you'll be held back from success.
Everett, WA (PRWEB) March 17, 2015
Many new startups are small enough that an average bookkeeper can do the job without any trouble. But in Your Balance Sheet's latest article, they explain that as businesses start to grow, they may need to move on from their bookkeeper to a financial planner and accountant. They give 5 warning signs to look out for; business owners that see these signs should consider finding new help for their financial services.
The article states that having a bookkeeper that can keep up with the demands of a small business is critical to the overall success of the brand. One of the first ways business owners can know that its time for a change is if they are not receiving timely financial statements.
"Having a bookkeeper that routinely produces late financial statements can cost you the time and ability to forecast and adjust appropriately to help your business thrive," Your Balance Sheet says.
Another area in which the average bookkeeper has a shortcoming is in developing an accounting system that matches the particular model of the business they're working for. The article goes on to say, "A knowledge of the necessary operations of your business, as well as the minutia of your particular model, can help you determine if your current accounting system is actually meeting the needs of your brand."
Your Balance Sheet is a firm that seeks to service businesses in ways the average bookkeeper cannot. They work with businesses to create unique accounting systems, as well as release regular accounting financial information in a prompt and efficient fashion. For more information, visit http://www.yourbalancesheetllc.com
About Your Balance Sheet, LLC:
Your Balance Sheet is one-stop shop for accounting and financial services based in Mukilteo, WA, serving business in the Seattle area. Their high standards, commitment to customer service and attention to detail ensure that you have the finest financial services available. Visit their website at http://yourbalancesheetllc.com/services/ for more information on services provided or to contact them online.
(425) 353-5100
12003 Mukilteo Speedway, Suite 102
Mukilteo, WA 98275
admin(at)yourbalancesheetllc90(dot)com