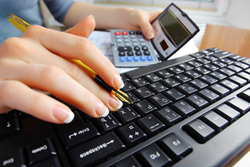 The truth is that businesses often fail because of faulty or inconsistent bookkeeping practices.
Everett, WA (PRWEB) September 17, 2014
Many business owners would agree that one of the worst parts of their day is handling the daily accounting tasks. Unfortunately, according to the latest article from Your Balance Sheet LLC of Everett WA, it's these little daily tasks that keep a business running smoothly—and the doors open.
"Records, updates, calculations, and account reconciliations, should be happening on a daily basis so that you know the health and wealth of your business," the article states, "A disturbing number of businesses leave accounting on the back burner, thinking that they can, 'Tackle that beast tomorrow'. The truth is that businesses often fail because of faulty or inconsistent bookkeeping practices."
With this opening warning to account-work shirking individuals, Your Balance Sheet goes on to talk about the 7 most hated daily accounting tasks that drive business owners batty. With each task, Your Balance Sheet provides tips on how to get it done, why it's important, and why, for some businesses, it's simply better to outsource those tasks to an efficient and trustworthy accounting service. Some of their examples include accounts payable, accounts receivable, cash management, and bank and credit card reconciliations.
To learn more about their accounting services, go to YourBalanceSheetLLC for more information.
YourBalanceSheet points out that many entrepreneurs and small business owners are wearing dozens of different hats each day as they manage their business. They warn that getting too caught up in the daily tasks can diminish these visionaries abilities from planning ahead and striving toward the lofty goals that made them start their enterprise in the first place. Whether a business owner that hates financial work, or an entrepreneur that's getting smothered in accounting tasks, YourBalanceSheet has helpful suggestions for how to outsource, delegate and grow as a business.
About Your Balance Sheet, LLC:
Your Balance Sheet is one-stop shop for accounting and financial services based in Mukilteo, WA, serving business in the Seattle area. Their high standards, commitment to customer service and attention to detail ensure that you have the finest financial services available. Visit their website at http://yourbalancesheetllc.com/services/ for more information on services provided or to contact them online.
(425) 353-5100
12003 Mukilteo Speedway, Suite 102
Mukilteo, WA 98275
admin(at)yourbalancesheetllc90(dot)com