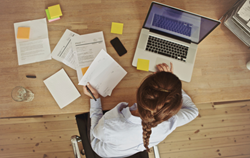 It is critical to the success of any business that their records be managed appropriately and efficiently.
Everett, WA (PRWEB) November 14, 2014
In their latest article, "7 Accounting Tips for Small Businesses," Your Balance Sheet lists several important tasks related to small business accounting.
"As tedious, annoying, or monotonous as this may be," they say, "It is critical to the success of any business that these records be managed appropriately and efficiently."
The first steps listed in the article detail the importance of researching and opening a separate business bank account. They say, "Creating a separate account for your business makes it easier for you to keep track of your business's income and simpler for you to do taxes."
Later on in the article, Your Balance Sheet describes the importance of collecting and tracking all business expenses. They go on to warn that, "Failing to maintain these accounts can disable you from being able to build a reliable financial statement or to prepare trustworthy reports on your tax returns."
Another tip described in the article is accurate bookkeeping. Your Balance Sheet states that, "Accurate bookkeeping is necessary in order to compile clear and precise reports as well as determine how your business is doing." The article then goes on to describe the two most common bookkeeping strategies used by small businesses.
Following the bookkeeping tips come concise pointers on handling employee payroll, filing taxes, and determine gross margins. Your Balance Sheet offers to partner with small businesses to help them complete these nebulous tasks quickly and accurately.
They emphasize that, "It's our job to alleviate your workload and enable you to focus on your business rather than having to wear too many hats."
For more information about the services Your Balance Sheet offers, visit http://yourbalancesheetllc.com/services/.
About Your Balance Sheet, LLC:
Your Balance Sheet is one-stop shop for accounting and financial services based in Mukilteo, WA, serving business in the Seattle area. Their high standards, commitment to customer service and attention to detail ensure that you have the finest financial services available. Visit their website at http://yourbalancesheetllc.com/services/ for more information on services provided or to contact them online.
(425) 353-5100
12003 Mukilteo Speedway, Suite 102
Mukilteo, WA 98275
admin(at)yourbalancesheetllc90(dot)com