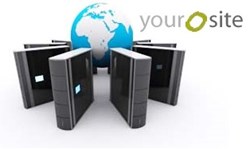 "Your-Site.com is the best provider of virtual server solutions - bar none. Not only is it the best deal with the most features for your money, they also have an awesome support staff. I plan to be a customer for life!" Pamela Whitmire-Peppermint Moon
Funkstown, MD (PRWEB) September 17, 2013
With over 20 years of experience in programming, networking and security including administration of Windows, Microsoft Exchange, Unix, Linux, C++, Pascal, VMWARE, Cisco Systems and several other popular systems, Danatone (Danny) Swett is the new IT Director and proud new owner of http://www.Your-Site.com. Established in 1996 and based out of Funkstown, MD, this dynamo IT expert is geared toward ensuring business websites are monitored around the clock and are safe, secure and trusted on a global scale.
With many different hosting sites in the market it is important to understand that not all web hosting services are the same. One of the key differentiators about Your-Site is that they own all of their equipment and servers. They are not a reseller for some other hosting company unlike a majority of "webhosts" and they guarantee an average uptime of 99.992%. In addition, technical support is available 24/7 via the web or phone and customers can feel confident that their questions will be answered in a timely and efficient manner.
"I believe we are a unique company that prides ourselves on quality service. Our customers are the reason we have been in business for 17 years and we take their needs seriously. We always strive for 100% customer satisfaction," said Danny Swett, owner and IT Director for Your-Site.com
Your-Site understands the business consumer and their need to have affordable, efficient and reliable web hosting services. There are several hosting packages customers can choose from including website building tools. They start with the Jumpstart Package for as low as $3 per month and move to a Professional Package starting at $18 per month with a full suite of services, including 10 GB of storage, email forwarding, FTP, web statistics, unlimited MySQL databases and much more. Another aspect of the web hosting services is that they are one of the first companies to offer Linux-based hosting and they still support Microsoft FrontPage. In addition, their staff are experts at UNIX network administration and they perform 24/7 daily monitoring and data backups.
With a passion and commitment to the highest security standards, Your-Site's goal is to build the best network and provide the best technical support that they can give to their customers. They have thousands of satisfied customers as far back as 1996 in Massachusetts, California, Florida and internationally in Australia, England, and India to name a few and they continue to listen to their needs and provide the most secure service to ensure the safety and security of their site.
With the reputation for offering excellent customer support, a blazing fast network and a rock solid hosting platform, Your-Site is committed to delivering the best Linux based web hosting technology to ensure that businesses can focus on their core operations knowing that their information is securely and safely managed by an experienced and knowledgeable IT team. To learn more about web hosting services for your company please visit http://www.Your-Site.com "Superior, Affordable B2B Hosting at its Best!"