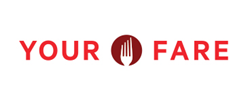 AUSTIN, Texas (PRWEB) June 04, 2020
Your Fare, an online third-party delivery management solution for restaurants, has partnered with delivery.com to provide a comprehensive tablet application for restaurant owners across the country to manage third-party delivery orders.
delivery.com has more than 17,000 restaurants that will have access to this new technology to help with POS integration and sending orders directly to the restaurant.
"One of the deterring reasons why restaurant owners hesitate to add an additional third-party delivery service is the challenges associated with managing another device," said Chris Monk, CEO and founder of Your Fare. "With Your Fare's capability to streamline operations for restaurants through a single device, this made for an obvious partnership."
The new delivery.com Tablet Application is hosted on the Your Fare platform, allowing Your Fare to provide a well-rounded solution for restaurateurs. The software confirms the order, prints the order ticket, has the capability to search order history and provides customer service support.
With the on-demand courier market quickly growing, all national partners of Your Fare have developed or are developing solutions to streamline the third-party delivery process. These solutions allow restaurants to complete their in-house delivery and catering orders without having to invest in a delivery infrastructure. Your Fare has also partnered with online ordering solutions to streamline the customer experience when ordering directly from a restaurant's website.
To learn more, visit http://www.yourfareinc.com.
About Your Fare
A leading online ordering management solution for restaurants, Your Fare integrates multiple third-party delivery services into one simple, user-friendly platform. Built for restaurant operators by restaurant operators, Your Fare works directly with restaurants to create a customized strategy for utilizing online ordering platforms, increasing operational efficiencies and profit margins. Your Fare's Restaurant Portal tracks all the order details, accounting data and customer information while the Tablet Application and POS Integration allow the restaurant staff to receive orders directly to the kitchen staff. Your Fare is headquartered in Austin, Texas. For more information, please visit https://www.yourfareinc.com/.
About delivery.com
delivery.com empowers the neighborhood economy by enabling consumers and corporate customers to order online from their favorite restaurants and other local businesses. More than two and a half million delivery.com customers and delivery.com Office clients explore their communities and order from over 17,000 local businesses in more than 1,800 cities while at home, at work, or on the go. With headquarters in New York and a growing presence across the country, delivery.com makes e-commerce an integral part of local daily life, enabling customers to order, companies to provide, businesses to grow, and neighborhoods to thrive.