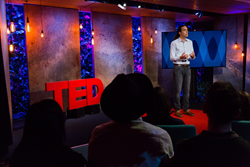 ...we've been redesigning work to take advantage of [AI] faster than we've been redesigning training and development. Trainees are... deviating... teaching themselves with YouTube to get the instruction they need. - Matt Beane
SANTA BARBARA, Calif. (PRWEB) February 04, 2019
The University of California Santa Barbara (UCSB) Technology Management Program (TMP) – an academic department offering Ph.D., Master's, and Certificates in Technology Management -- announced today newly-available insights into research conducted by TMP Associate Professor Matt Beane. Based on a three-and-a-half-year research study conducted while a graduate student at the Massachusetts Institute of Technology (MIT) and a faculty member at UCSB, Beane's findings show that current deployment of artificial intelligence (AI), or intelligent machines, is not only inhibiting critical on-the-job learning but potentially creating obstacles to AI-driven productivity gains. In rare cases, according to Beane, workers are creating so-called "deviant" means to acquire the capabilities they need – a phenomenon he has defined as "Shadow Learning." Beane presents his work in a newly released TED Talk available on the Ted.com homepage on Monday, February 4, 2019. Matt will also expand and update his findings along with potential solutions in an upcoming Harvard Business Review, available in mid-2019.
It has been estimated that between one-half to one billion workers will be required to adapt to artificial intelligence – the so-called "fourth industrial revolution" -- in their daily work by 2030 (McKinsey Global Institute). While this -- and much of the volume of research conducted to date -- has focused primarily on the potential efficiencies and growth afforded by AI (along with associated worker displacement), relatively little has been published on issues related to how workers are adapting to these technologies. In his research, "Shadow Learning: Building Robotic Surgical Skill When Approved Means Fail," published in Administrative Science Quarterly in 2018, Beane finds that in our quest for AI-driven productivity, we are compromising critical, presupposed pathways for learning on the job. Given that most of us learn to perform our work on the job – not in formal training – this new status quo threatens workers' ability to learn new skills and adapt to challenges presented by increasingly intelligent machines.
"Intelligent machines offer unprecedented efficiency and quality improvements. And while many of us may lose or gain jobs as a result, many, many more of us will have to adapt to these technologies in the jobs we have," said Beane. "Unfortunately, we've been redesigning work to take advantage of these technologies far faster than we've been redesigning learning and development. Ironically, these intelligent machines are at the center of the trouble. We're currently deploying AI in ways that are actually preventing workers from learning by doing – the most common and effective process for getting the new skills to adapt to these new technologies."
During "TED Salon: The Next Wave," a condensed version of a TED flagship conference featuring talks focused on the opportunities, tools, and pitfalls of AI, Matt Beane draws from the research he began while a graduate student at MIT. In those years and until today, he has done extensive field research on work involving robots to help us understand the implications of intelligent machines for the broader world of work. Any one of Beane's projects include many hundreds of hours - sometimes years - watching, interviewing and often working side by side with people trying to work with robots to get their jobs done. Matt has completed projects on robotic surgery, robotic materials transport, and robotic telepresence in healthcare, elder care, and knowledge work. His study of robotic surgery covered residency programs at 18 of the top teaching hospitals throughout the United States.
In that study, he found that robots were used in a way that blocked a trainee's ability to learn on the job and distanced them from a mentor or expert. In traditional or open surgery, the surgeon relied on the resident (or surgical trainee) to participate in the procedure. As a result, residents learned by doing, as they have historically. During robotic surgery, Beane observed something different. "Rather than having their hands in the work, residents and assistants watched the procedure on television. Their on-the-job learning was sacrificed for the sake of efficiency and safety," said Beane.
The practice residents received during robotic surgery was also lower-quality because of what Beane called helicopter teaching – or giving frequent and very public feedback to residents and intermittently taking control of the robot away from them. To counter this lower-quality learning experience, Beane found a very few residents went to extreme measures, deviating from prescribed training and engaging in what Beane has called "Shadow Learning." Residents focused on robotic surgery in medical school at the expense of generalist training, engaged in extensive practice on simulators, watched procedures on YouTube and performed robotic surgery with limited expert supervision.
"Surgeons are graduating without sufficient generalist knowledge or utilizing robotic tools due to a lack of experience and mentorship," said Beane. One of his informants, a Chief of Urology, said this plainly: "They [new surgeons] trained in top programs that teach robotic surgery. And they suck now. I mean these guys can't do it. They haven't had any experience doing it. They've watched it happen. Watching a movie doesn't make you an actor."
In the last year, Beane has compared his findings with dozens of researchers who have examined the implications of increasingly intelligent machines in other industries such as investment banking and law enforcement. Their data showed evidence of Beane's findings. The expanded picture and proposed solutions will be published in an upcoming edition of Harvard Business Review (expected in mid-2019).
Beane believes there is an opportunity to alleviate the learning and training problem associated with intelligent machines. He suggests they can be part of the solution: these technologies can coach learners when they are struggling; guide experts on their mentorship, and connect these two groups in smart ways. He notes that some are working on systems like these, but that they are focused on formal training, while the deeper crisis is in on-the-job learning. Making progress on these issues is both critical and daunting, he says: "On-the-job learning is essential for millions of people in countless industries, so hopefully we'll see more attention in this direction soon. We have to do better – much better – than the status quo."
About Matt Beane
Matt Beane is an Associate Professor in the Technology Management Program at the University of California, Santa Barbara and a Research Affiliate with MIT's Institute for the Digital Economy. Matt studies deviance in work involving machine intelligence - and specifically robotics. He asks questions like "How do workers, organizations and even AI engage in deviance, and what happens when they do?" Matt has done extensive field research on robotic surgery, robotic materials transport, and robotic telepresence in healthcare, elder care, and knowledge work.
Matt received his Ph.D. from the Sloan School of Management at the Massachusetts Institute of Technology in the Information Technologies department. His research on robotic surgery was published in 2018 in Administrative Science Quarterly; his work on robotic telepresence was published in 2014 in Organization Science. Matt was selected in 2012 as a Human-Robot Interaction Pioneer and is a regular contributor to popular outlets such as Wired, MIT's Technology Review, TechCrunch, Forbes, and Robohub. Matt also took a two-year hiatus from his doctoral studies to help found and fund Humatics, an MIT-connected, full-stack IoT startup.
About Technology Management Program at UCSB
The Technology Management Program (TMP) at UCSB prepares emerging and experienced professionals with the management skills necessary to lead established or start-up business initiatives within fast-paced, rapidly changing, technology-based enterprises. An academic department that combines a curriculum of theory, practice, and mentorship at the intersection of technology, business, and social science, TMP offers a Ph.D. in Technology Management, a professional Master's of Technology Management, as well as UC-recognized certificates to current undergraduate and graduate students. Doctoral students study and conduct research along with leading scholars in organizational theory, organizational behavior, technology studies, and strategy. Curriculum for professional master's students is designed to train future technology and business leaders, with a focus on providing students with the knowledge and experience to perform effectively in, and give leadership to, global technology teams. Within the certificate programs, TMP offers driven, innovative, and entrepreneurial students an in-depth understanding of business principles and professional skills vital to their success after graduation. TMP's annual New Venture Competition (NVC) exposes students to product ideation, team formation, business model development, market validation, and the art of presentation. The new Wilcox Venture Incubator allows students to further develop new business ventures while working alongside mentors, IP and legal experts, and faculty -- preparing them for successful careers as business leaders and entrepreneurs. For more information about TMP, go to http://www.tmp.ucsb.edu.
About TED
TED is a nonprofit organization devoted to Ideas Worth Spreading, usually in the form of short, powerful talks delivered by today's leading thinkers and doers. Many of these talks are given at TED's annual gathering in Vancouver, Canada, TEDWomen and TEDGlobal conferences, intimate TED Salons and thousands of independently organized TEDx events around the world, then made available, free, on TED.com and other channels.
TED's open and free initiatives for spreading ideas include TED.com, where new TED Talk videos are posted daily; TEDx, which provides licenses to thousands of individuals and groups who host local, self-organized TED-style events around the world; the TED Fellows program, which selects innovators from around the globe to amplify the impact of their remarkable projects and activities; and the educational initiative TED-Ed.
Follow TED on Twitter, on Facebook, on Instagram, and on Snapchat at tedtalkshq.