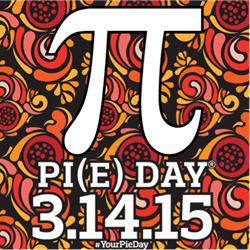 ATHENS, Ga. (PRWEB) March 20, 2015
Your Pie, the originator of the down-the-line pizza category, celebrated their annual Pi(e) Day® tradition for the 7th time in the company's history on March 14th and broke the record for highest one-day, system-wide sales since the brand launched in May 2006. Additionally, Your Pie's Columbus-Uptown location posted the highest one-day sales for a single restaurant in the company's history.
Across the system, sales were up more than 150% from a typical Saturday.
"Pi(e) Day is our Customer Appreciation Day, and traditionally our best sales day of the year," said Drew French, Founder of Your Pie. "We are thrilled to see just how excited our customers were for this year's celebration."
The holiday to celebrate pi (or π), the mathematical symbol that gives pizza its shape, was celebrated at the brand's 21 locations across four states, as well as with a campaign across the brand's social media platforms with the #YourPieDay hashtag.
"Pi(e) Day is one of our favorite days of the whole year," added French. "We are already planning how we can make it even better for next year and continue to see this kind of success."
Your Pie ended 2014 with signings to open in Chicago, Houston and Oklahoma City, as well as in Arizona, Delaware, Virginia and southeastern Florida. The brand has plans to continue expanding in 2015, with franchise opportunities available across the U.S.
ABOUT YOUR PIE
Your Pie is the world's originator of the quick-serve, brick-oven, customized personal pizza category. A culinary entrepreneur since his teenage years, Your Pie founder Drew French combined his passion for innovative restaurant concepts with brick oven technology to create the highest quality pizza available at incredible speed. Drawing from family recipes from the island of Ischia, Your Pie uses hand-tossed dough, only fresh ingredients, homemade pizza sauces and salad dressings, and offers vegan, vegetarian and gluten-free pizzas, as well as traditional pizzas. Customers who dine at Your Pie have come to expect the best tasting pizza served with speed without sacrificing flavor. Your Pie is a state of mind and the brand stands by its motto to "express your inner pizza", investing in local communities and encouraging diners to let their culinary creativity run wild. For more information about Your Pie or franchising opportunities, please visit http://www.yourpie.com.
###