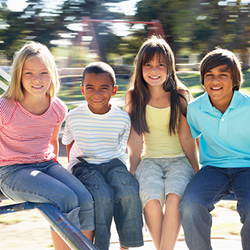 We believe that all youth deserve the support and resources to ensure that they are continuing on the right path toward a successful future
Lake Orion, MI (PRWEB) July 19, 2017
Mlynarek Insurance Agencies, an eastern Michigan company providing asset protection services and financial planning assistance to communities in the Detroit region, is embarking on a joint charity drive with the Oakland County Children's Village in an effort to provide for young people in the region who need out-of-home care.
There are children in every community who are enticed into following the wrong path, and the Oakland County Children's Village provides a safe and therapeutic setting where young people can regain their footing and rethink their decisions. All children are welcome at the Village, regardless of culture, ethnicity, gender, or religious background.
"We believe that all youth deserve the support and resources to ensure that they are continuing on the right path toward a successful future," states Kevin Mlynarek, the executive director and principal agent of Mlynarek Insurance Agencies.
To find supporters in the Detroit community, Mlynarek and his team are mobilizing a broad range of social media and email tools to connect with families, associates, and community leaders. Additional publicity for the Oakland County Children's Village charity drive is anticipated after the release of a soon to be published article on the event scheduled which will appear in the Mlynarek Insurance Agencies regional webzine "Our Hometown": http://www.mlynarekinsuranceagencies.com/Our-Hometown-Magazine_39.
Mlynarek Insurance Agencies is a long time affiliate of "Agents of Change," an interstate coalition dedicated to supporting regional charities. As members of this group, Mlynarek and his team are committed to finding and helping to support a new charity in the Detroit region every other month.
All readers interested in learning more about the Oakland County Children's Village charity drive, and those who want to personally take part in the event, are encouraged by Mlynarek and his team to get involved by following this link: http://www.mlynarekinsuranceagencies.com/Ensuring-That-Our-Youth-Follow-The-Right-Path_25_community_cause. A full listing of all charitable causes and nonprofits assisted by Mlynarek Insurance Agencies over the last several years can be found on the firm's Community Causes archive: http://www.mlynarekinsuranceagencies.com/community-cause?page=1.
About Mlynarek Insurance Agencies
As a Personal Finance Representative in Lake Orion, agency owner Kevin Mlynarek knows many local families. His knowledge and understanding of the people in his community ensures that clients of Mlynarek Insurance Agencies are provided with an outstanding level of service. Kevin and his team look forward to helping families protect the things that are most important - family, home, car and more. Mlynarek Insurance Agencies also offers clients a preparation strategy for achieving their financial goals. To contact an expert at Mlynarek Insurance Agencies, visit http://www.mlynarekinsuranceagencies.com/ or call (248) 393-1300.