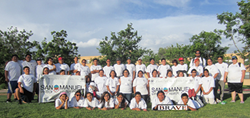 The Youth Leadership Summit helped me be a better me.
Albuquerque, NM (PRWEB) May 01, 2014
Futures for Children (FFC) has received funding in the amount of $30,000 from the San Manuel Band of Mission Indians for sponsorship of the FFC 2014 Youth Leadership (YL) Summits. San Manuel, located in Highland, CA, has supported the Youth Leadership Summits since 2009. Their generosity has made it possible for students to expand their social and scholastic horizons and address the challenges of unfamiliar experiences and environments.
For 46 years, Futures for Children has strived to create a world in which social and economic justice includes American Indian people. They partner with supporters to encourage American Indian students to develop into young leaders who find their voices and take action while taking pride in their cultural identities.
Futures for Children YL Summits are annual events that bring youth from different program sites together to celebrate the success and hard work of their dedication to self-growth and the development of leadership skills. Summit participants are offered real-life experiences in group presentation, leading discussion panels, sharing community projects, and interacting with Native groups from other communities and Tribal affiliations.
During the 2014 YL Summits, participants from tribal communities including Navajo, Hopi, Cheyenne & Arapaho of Oklahoma, and Zia Pueblo, will experience three days of workshops and activities designed to encourage young people to aspire to greater academic achievement in preparation for career-oriented, post-secondary education. A new objective added to the 2014 YL High School Summit is the inclusion of Friendship/Mentorship students as an introduction to the Youth Leadership curriculum.
Summit days are busy with workshops and activities designed to assist American Indian students in developing the leadership skills required to succeed in their chosen life paths. Participants at both summits can expect to engage in various activities intended to challenge and build self-reliance.
Younger students at the Elementary/Middle School Summit attend sessions in confidence building and the acquisition of life skills, tailored to make students' progression to high school an easier process. They take part in workshops exploring the concepts of team-building and effective communication and listening skills. During an activity called Native Games, students interact with one another to create an environment that will help them become more open and accepting as individuals while working toward a common goal as team members.
Participants at the High School Summit attend comprehensive sessions geared toward community assessments, service-learning projects, methods of building self-sufficient communities, and career readiness. A significant amount of time is spent discussing career choices and the best paths for goal achievement. High school Summits are held on a college campus to acclimate the students to a dormitory setting, as well as provide familiarity with the offices of admissions, financial assistance and student support services.
Since many student participants will be first-generation college students, the summit agenda includes sessions whose purpose is to further their awareness of the requirements of college, post-secondary education options, and scholarship opportunities. Additionally, financial literacy advice and tips for navigating the application process are presented to lessen anxiety during the transition to college life.
Another important activity during the High School Summit is the "Leadership After High School" workshop where students interact with Native college students and professors who provide guidance and answer questions regarding the college experience. Additionally, high school students are scheduled to spend one day of the summit volunteering their services at the Road Runner Food Bank.
The 2014 YL Summits will both take place in Albuquerque, NM where Futures for Children is headquartered. The Elementary/Middle School YL Summit is scheduled for May 16-18 with workshops at the Futures for Children building and lodging at Courtyard by Marriott. The High School YL Summit will take place on June 4-6 with both workshops and lodging at the University of New Mexico.