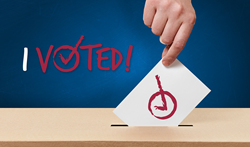 From kids' minds to candidates' ears - discover the top U.S. issues that matter most to America's students.
Collierville, TN (PRWEB) February 15, 2016
In honor of Presidents' Day, and with the November 8, 2016, U.S. Presidential election in full swing, the service learning arm of the American Public Education Foundation (APEF) announces active and upcoming civic engagement activities for public school students. APEF is also releasing results for #YouthVoteAmerica, a just-completed nationwide poll that asked public school students in grades 3-12 to "vote" online on top U.S. issues of greatest concern to America's youth.
From Students' Minds to Candidates' Ears: APEF is issuing the results of the #YouthVoteAmerica poll to the campaign teams of Presidential hopefuls.
"We must never forget that generations of patriots gave their lives so that we may have the freedom to cast a vote," said APEF President David A. Pickler. "Voting is both privilege and civic responsibility, and #YouthVoteAmerica inspires America's students to take part in our nation's electoral process. A healthy democracy is reliant on an informed and engaged citizenry."
APEF's activity centered on the U.S. electoral process is as follows:
ACTIVE AND FUTURE

No-cost Election-Year Curriculum (Elementary & Middle/High School). APEF has created an election year curriculum – available free to U.S. teachers – that introduces the concept of representative government to students across three content areas, history, social studies and language arts. APEF's "Electing the Electors: How an American Becomes President" curriculum is available in English and Spanish (March).
This robust curriculum – developed by award-winning educator Marie Basiliko Davis, M.Ed. – provides rigorous, in-depth content around the U.S. Constitution, the Bill of Rights, Voting Rights, the 19th, 23rd, 24th and 26th Amendments, Voter Registration, Presidential Primary Elections, Presidential Elections, and the Electoral College. Visit the APEF under the "Educate" tab to download this no-cost, comprehensive curriculum that contains sources for rubrics, planned experiences, extension activities, suggested national events and holidays for use, and much more.
"Picture Freedom" Art Contest. With entries accepted Feb. 16 - May 20, this national contest in partnership with Toyota and the National Underground Railroad Freedom Center (NURFC) asks students in grades 7-12 to submit an original drawing, painting or photograph that honors freedom. First, second and third-place prizes are $3,500, $2,000 and $1,000 respectively, plus a trip for two to attend the summer exhibition. Honorable mentions - fourth to 12th place winners - receive $100. All student artwork will be on display at the "Picture Freedom" Art Exhibition at the NURFC in Cincinnati, Ohio, in July 2016.
Cesar Chavez Month. To honor the life's work of this legendary civil rights and labor leader, all educational resources will be available in Spanish beginning in March.
Presidential Straw Poll. Keep pace with theapef.org to take part in APEF's nationwide online student Presidential Poll – the straw poll will take place Oct. 21, 2016, in advance of the Nov. 8 Presidential election.
#YOUTHVOTEAMERICA RESULTS
An all-online national poll open to students in grades 3-12, "Youth Vote America" (Jan. 4 – Feb. 12) listed top U.S. issues of the day – poverty, college debt, immigration, and more – and asked America's youth to select or write in their 'top 3' concerns.
National Issues Students Care Most About. With 655 youth online "votes" cast nationally, top student concerns were:

#1: Terrorism, at 20% (165 votes)
#2 (tie): College Debt, Education, at 15% each (95 votes each)
#3: Economy, at 12% (78 votes)
(Full roster of issues: college debt, economy, education, environmental issues (global warming), healthcare, terrorism, texting while driving, poverty, unemployment/jobs. Top write-ins included gun control/gun violence, homelessness, and marriage equality/gay rights. Voter distribution (rounded): 76% = high school students; 6% = middle school students; and 17% = elementary school students.
New and Improving. Dedicated to educate, inspire and lead America's next generation, check out the all-new American Public Education Foundation at theapef.org - see APEF's growing roster of service learning initiatives (see the "Educate," "Inspire" and "Lead" tabs), partners and updated leadership team.
About APEF: The American Public Education Foundation (APEF) complements in-class teaching and learning with service learning projects that promote civic engagement, character development and global citizenship among K-12 public school students. Business leaders, educators, parents – join us to help educate, inspire and lead America's public school students. Learn more at http://www.theapef.org