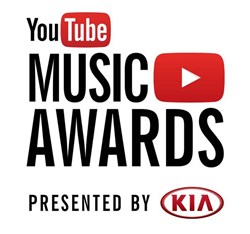 (PRWEB) October 08, 2013
Kia Motors Corporation (KMC) today announced it will be the exclusive Presenting Sponsor of the first-ever YouTube Music Awards – an unprecedented digital music entertainment event, which will globally immerse YouTube viewers in concerts around the world. Accessible to more than one billion people worldwide, YouTube has become the home to both recognized artists and the next generation of musical talent. Kia will be at the forefront of this cutting-edge paradigm that sets a new standard for music awards.
The YouTube Music Awards will feature performances from and collaborations between a variety of artists, from the biggest names in music, including Eminem, Lady Gaga and Arcade Fire, to some of the world's biggest YouTube stars.
On Sunday, November 3, in the 12-24 hour period before the awards ceremony, live streamed concert events held at various venues globally will commence starting in Seoul, moving to Moscow, London and Brazil, and concluding with the main awards show at Pier 36 in New York. International groundswell and modern media outlet, VICE, known for its unique style and coverage of culture, music and documentary journalism, will be the event's executive producer, while popular director, screenwriter and producer Spike Jonze, will be the event's director.
The YouTube Music Awards nominations will be announced later this month at which time an online voting period will open for users to cast votes for their favourite artists that will end on 2 November.
Through this highly collaborative partnership, Kia will roll out several interactive and innovative activations to create resonating, memorable and positive links between music entertainment and the Kia brand.
"The YouTube Music Awards will be a first in digital and music entertainment and Kia is proud to be the presenting sponsor of this event," said Soon-Nam Lee, vice president of marketing, Kia Motors Corporation. "Digital media has played a pivotal role in how we connect with our customers, and with more consumers going on-line every day to engage with content, it is only natural that we lead the way with this YouTube sponsorship."
Over the past few years, the Kia brand has gained significant credibility within the digital entertainment realm by taking an innovative communications approach in connecting with customers online. Kia has more than 250 global and local social media profiles that constitute a reach of some 1.4 billion people who are having more than 300,000 Kia-related conversations daily in the form of comments, sharing, postings and mentions.
About YouTube – YouTube is the world's most popular online video community allowing more than a billion people to discover, watch and share originally created videos. YouTube provides a forum for people to connect, inform and inspire others across the globe and acts as a distribution platform for original content creators and advertisers large and small. YouTube, LLC is based in San Bruno, Calif., and is a subsidiary of Google Inc.