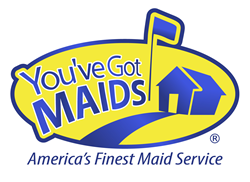 "How satisfied current franchisees are is one of the most important things to find out. Our list of top low-cost franchises is the only one in the industry that is based on franchisee satisfaction." Eric Stites, CEO of Franchise Business Review
Mount Pleasant, SC (PRWEB) October 17, 2016
You've Got MAIDS® was recently named a top franchise by Franchise Business Review in its 2016 Top Low-Cost Franchises Report.
You've Got MAIDS®, a national home cleaning services franchise, is a sought after brand and is quickly establishing themselves as an industry leader in the high demand market sector of maid services.
Franchise Business Review, a national franchise market research firm that performs independent surveys of franchisee satisfaction, provides the only rankings of franchises based solely on actual franchisee satisfaction and performance. Franchise Business Review publishes its rankings of top franchises in it's annual Guide to Today's Top Franchises, as well as in special reports throughout the year that rank the top franchises in specific sectors.
You've Got MAIDS® was among 125 franchise brands, representing over 11,000 franchise owners that participated in Franchise Business Review's research on low-cost franchises. You've Got MAIDS® franchisees were surveyed on 33 benchmark questions about their experience and satisfaction regarding critical areas of their franchise systems, including training & support, operations, franchisor/franchisee relations, and financial opportunity. You've Got MAIDS® far exceeded Franchise Business Reviews franchise benchmark assessment baseline across the board.
You've Got MAIDS® consistently receives exemplary scores from their franchisees compared to overall key industry research findings from the low-cost sector including the following categories:

89% enjoy operating their business
88% enjoy being part of their franchise
86% respect their franchisor
84% believe their franchisor acts with a high level of integrity
78% would "do it again" knowing what they know today
86% are satisfied with their franchisor and the opportunity provided
84% would recommend their franchise brand to others
Source: Franchise Business Review's 2016 Top-Low Cost Franchises Research: http://www.franchisebusinessreview.com/buying-a-franchise/list-2016s-top-low-cost-franchises-satisfied-franchisees-released-franchise-business-review/
"Franchising is a great opportunity, but you have to research everything there is to know about brands you are interested in," says Eric Stites, CEO of Franchise Business Review. "How satisfied current franchisees are is one of the most important things to find out. Our list of top low-cost franchises is the only one in the industry that is based on franchisee satisfaction."
###
About You've Got MAIDS®
Frank and Cynthia founded You've Got MAIDS® after long, successful careers in the franchise industry. Their goal is to help other people own their own business, and live the American Dream. Frank and Cynthia's grandparents immigrated to the U.S.A. from different countries, with barely any money, and became cleaners. They eventually changed their family's futures. Our founders understand what it's like to have the entrepreneurial spirit, but how daunting it is to redirect your destiny. The first step is the hardest.
Over twenty years ago Frank and Cynthia went directly into the franchise sector from graduate school. Among many achievements and accolades, they owned and operated the 4th busiest Domino's Pizza on the planet. A solid opportunity, backed by superior support, makes all the difference. An analysis of You've Got MAIDS® reveals this and more. With each new detail, it gets better and better. It's a multi-million dollar industry. The demand is growing. A family friendly schedule is inherent. A franchisee can leverage their managerial skills against a growing customer base to increase revenue. Start up is low, operating costs are low, profit potential is high, and managing managers makes multiple offices an option.
About Franchise Business Review
Franchise Business Review (FBR) is the only independent market research firm that specializes in benchmarking franchisee satisfaction based exclusively on ratings and reviews from franchise owners. FBR publishes free and unbiased franchisee satisfaction research reports throughout the year online at http://www.FranchiseBusinessReview.com.
Media Contacts:
Meli Lussier
Chief Marketing Officer
843.388.7887
Franchise(at)youvegotmaids(dot)com
Franchise Business Review
Emma Pearson
Editorial Director
603.433.2260
epearson(at)franchisebusinessreview(dot)com