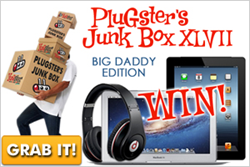 I actually liked what I got! It was like opening a present on my birthday or on Christmas morning.
Salt Lake City, Utah (PRWEB) June 11, 2015
Yugster is celebrating its 10 year anniversary by selling junk. Should it be legal to sell junk? Yugster, a popular daily deals website, has had no problem selling junk to their customers on a monthly basis for 10 years.
Companies that sell junk to their customers should find their company going out of business faster than a junkie gets stoned. However, Yugster.com has used selling "junk" to their advantage. But is their "junk", really junk?
Every month, Yugster sells a box of so-called junk. It's called, Plugster's Junk Box. Surprisingly, this box of junk sells out every month. But what's in this box of junk? Yugster has customers who come back to buy this junk box every month. So there must be something good inside these boxes.
Yugster employees are very secretive when it comes to revealing what's inside the box. When asked what's inside the box, Ty, an employee at Yugster said, "Of course it's junk. Why else would we call it a junk box?" But then when Josh at Yugster was asked the same question, he said, "I personally have bought a junk box and don't know that I'd necessarily call it 'junk', but someone might say it was junk. I actually liked what I got! It was like opening a present on my birthday or on Christmas morning."
So whether the stuff inside that box of junk is really junk or not is still up for debate. But regardless of what's inside the box, everyone who buys a junk box gets a chance at winning one of several prizes that Yugster gives away each month. For example, this month Yugster is giving away an Apple MacBook Air, and Apple iPad, and a pair of Beats by Dr. Dre headphones. That's $1700 worth of prizes that Yugster is awarding to lucky winners.
Some customers look at the junk box as a raffle ticket to win a great prize, and if they get a piece of "junk" that they like in the process, then they're a happy customer.
Besides selling junk, Yugster has new daily deals every day that are only guaranteed for 24 hours. Their deals are only "Yours Until Gone" as Yugster phrases it. Yugster also rewards frequent buyers with YUG Rewards, or YUG Points. These points give customers even better discounts on certain deals.
Deal divas and bargain shoppers who have heard of Woot would probably get a kick out of Yugster and enjoy their deals as well. Yugster has a daily email that customers can subscribe to at the top of their website so that no great deal is gone before they've had a chance to grab it!