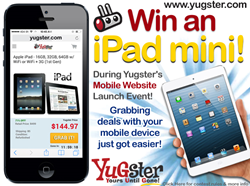 Salt Lake City, Utah (PRWEB) June 19, 2014
Yugster.com, one of the original daily deal websites, has just launched their mobile website, making it even easier to grab daily deals via smartphones and tablets. Yugster has streamlined their mobile website, and formatted the pages for their deals so that information is easy to read across all platforms.
During their mobile launch, they are giving away an Apple iPad mini to encourage their customers to try out the new mobile version of their website. Yugster is known for rewarding its customers through contests, sweepstakes and frequent shopper rewards points. Yugster's reward points are called YUG Points and give frequent buyers additional discounts on the posted daily deal pricing.
Right besides Woot.com, Yugster is one of the most popular daily deal websites on the Internet. Yugster's deals are posted on other popular deal websites Bradsdeals.com on a daily basis. Yugster is known for having big deals on big brand products like Apple, Samsung, Cuisinart, Sony, Dell, HP, Jabra, Logitech, Philips, Duracell, & more. One of Yugster's hottest and most recent deals includes saving 63% on a pair of Monster 'Beats by Dr. Dre' Studio Active Noise Canceling Over-Ear Headphones.
Besides Yugster's new daily deals, which go live every morning at 6am EST, they also often carry over past deals and display in them in their Last Chance and Plugster's Picks sections, which include over 50 other deals. These deals will last anywhere from a couple days to a couple months. Any deal on Yugster.com, however, is only Yours Until Gone, as their slogan says.
Yugster's new mobile website has a slick menu which can be accessed in the top right hand corner by clicking the well-known mobile icon button, which consists of three small horizontal lines. All of the deals can also easily be seen on the same screen by scrolling all the way down to the bottom of the first page. This is Yugster's mobile version 1.0, and will only get better.
Based out of Salt Lake City, Utah, the daily deals at Yugster have been up for grabs for almost 10 years now. Yugster has a daily deal email that customers can sign-up for to get deals delivered straight to their inbox. Learn more about Yugster and their popular deals on their facebook page.