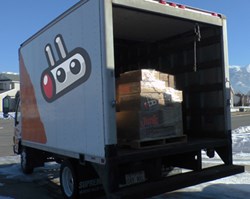 (PRWEB) January 30, 2014
When a company gets too much junk in its warehouse, what can they possibly do with it other than take it to the dump? Yugster.com, a popular daily deals website, has found the best solution possible - sell it!
Any company that sells junk might find themselves quickly out of business, but Yugster has experienced nothing but growth of the last few years. Yugster is well known for selling name brand products at prices lower than any other website online, including products from Apple, Sony, Vizio, Dell, HP, Plantronics, Panasonic, and Magnavox to name a few. But one thing they are widely known for is their ability to sell junk!
Every month, Yugster.com offers a box of junk for sale, called Plugster's Junk Box. Plugster, is the name of their robot mascot that has the appearance of something that could be plugged into an outlet. Plugster's Junk Box is a mystery box full of random items from their warehouse. Customers that order this box of junk do not know what they'll receive. The mystery of what's in the box keeps customers coming back month after month.
Yugster also usually has a prize or giveaway along with their box of junk. So customers will not only receive some random items, but they also have a chance to win something of great value. For example, Yugster is currently giving away an iPad mini to a lucky customer that buys their latest edition of Plugster's Junk Box. Yugster surprised some customers earlier this year with an entire pallet of junk, filled with boxes that contained over 400 pounds of junk. What was in those boxes? Only the customers know themselves, or perhaps some local pawn shops.
Besides selling junk, Yugster has daily deals that are only available for 24 hours, or that are "Yours Until Gone" as Yugster phrases it. They also have many other deals that are available for several days in their Plugster's Picks section. Yugster rewards frequent buyers with Yug Points, that give customers with more points, even better discounts on their deals.
For bargain shoppers and deal divas who have heard of Woot, Tanga, or Daily Steals, Yugster is another website to add to that list of websites to check every day to grab that steal of a deal. Yugster has a daily email that customers can subscribe to where they'll also receive exclusive deals.