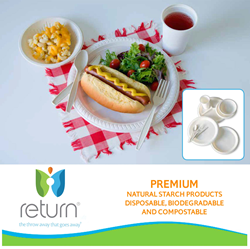 All products are made from renewable and sustainable plant material including Return®; "The Throw Away That Goes Away®" which are compostable and microwave safe.
Norwalk, CT (PRWEB) June 01, 2016
Yumi EcoSolutions is pleased to announce the launch of its new official brand website http://www.yumieco.com. The new responsive website will provide users with a best-in-class experience whether they come via desktop computer, tablet or smart phone. This new marketing and sales channel will expand the company's national and global footprint.
"June 1st is a special day for us," said Virginia P'an, President of Yumi EcoSolutions. "Our mission to create a healthier and better world for you, me and future generations with safe, natural products," has moved to a new level.
The new website has a clean design, beautiful photography and enhanced content focused on the company's mission and sharing the whole story on why plastics are bad for the environment and what our company is doing to provide eco-friendly alternatives that fit the active lifestyle of its 21st century customers. "Many consumers do not realize that plastic products are harmful to our health," P'an says. "Plastics use 8 percent of all the oil produced worldwide; are 15 percent of all solid waste in landfills; and last more than 1,000 years on earth."
Our new website experience improves access to the brand, enabling consumers to buy direct rather than through a reseller. Yumi has chosen eAccess Solutions to be its partner in operating the new on-line store. David Bean, CEO of eAccess Solutions, Inc. commented, "We are honored to be partnering with Yumi to both raise awareness and increase sales of this beautifully crafted and environmentally friendly product line."
About Yumi EcoSolutions
Yumi EcoSolutions is Yumi EcoSolutions is an environmentally conscious manufacturer of biodegradable and sustainable products made from renewable, natural materials to replace harmful, petroleum-based plastics. Yumi combines beauty with function to meet everyday needs with plant-based alternatives to keep pollutants out of landfills, oceans and skies. Together with our earth conscious consumers, Yumi is leading the development of innovative, state-of- the-art products that contribute to a better, cleaner world for all. All products are made from renewable and sustainable plant material including Return®; "The Throw Away That Goes Away®" which are compostable and microwave safe. Durable natural bamboo fiber products include Yumi Nature+™, Yumi Art+™ and Yumi Earth+™ which are Melamine & petroleum free and top rack dishwasher safe.
For more information contact Yumi EcoSolutions, Inc. http://www.yumieco.com
About eAccess Solutions
Founded in 2001 eAccess is a turnkey global ecommerce provider for high value brand manufacturers. Our award winning ecommerce platform, highly rated customer service and diverse omni channel product marketing capabilities increase direct to consumer product sales and brand visibility.
For more information contact eAccess Solutions, Inc. http://www.eAccess.com