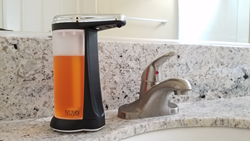 This product encourages good hygiene by making hand washing both convenient and fun.
Elk Grove, CA (PRWEB) September 20, 2016
Beautifying spaces while encouraging good habits, a new home goods company has come to play clean. Meaning useful or helpful in Japanese, YUYO™ debuts with a product that makes a home tech experience out of hand washing. With sights fully set on practicality, the automatic soap dispenser gives germs the boot. A hands-free approach, for an all-about-the-hands event, the product divvies out soap with controlled bursts of clean. Making the bar of soap antiquated, the modern product has now taken its small footprint to the masses on Amazon.
Targeting optimal product design, Ken Furukawa, founder of YUYO™ said of the battery-operated automatic soap dispenser, "This product encourages good hygiene by making hand washing both convenient and fun. The motion sensor prevents waste. And the cost-effective and environmentally-friendly usage gives key benefits too."
Negating the spread of germs that grow on a bar of soap, or the handle of a liquid soap bottle, the YUYO™ Automatic Soap Dispenser disperses its goods via a motion sensor. When hands, sponge, or cloth is placed beneath it, the kitchen soap dispenser will dispense between 0.5 ms and 1.0 ms of liquid. It conveniently holds 15.2 fl. oz. of soap or hand sanitizer that's never dispensed by accident thanks to a special valve. Noted in the bathroom accessories category as well, the fully-automatic soap dispenser for the home or office stands eight inches tall. Powered by four AAA batteries, the product will dispense liquid soap or hand sanitizer for one year with approximately 15,000 cycles on tap.
Furukawa said, "Refilling the dispenser is quick and easy due to the translucent chamber that shows how much soap is left at a glance. Cleaning is simple too. This versatile automatic soap dispenser is ideal for laundry rooms, offices, hotels, restaurants, schools, even hospitals."
Sales have taken a dramatic leap since the company's automatic soap dispenser video was released on YouTube last month, added Furukawa.
Kitchen and homeware enthusiasts are encouraged to like the YUYO™ fan page on Facebook to join the growing community of fans that receive information on the latest kitchen and bathroom accessories and news.
The YUYO™ Automatic Soap Dispenser is sold exclusively through Amazon. The product retails for $32.95, but for a limited time customers can save 25 percent by entering code YUYOSV25 at checkout. This product is backed by YUYO's 100 percent money-back guarantee, which promises a full refund. No questions asked if dissatisfied.
YUYO™, pronounced YOU-YOH, was founded by an entrepreneur and stay-at-home father interested in supplying the marketplace with high-quality kitchenware and homeware products. Dedicated to offering home goods that seamlessly blend in with the overall flow of the design of a space, YUYO™ products affordably offer streamlined functionality.