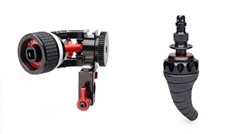 Chicago, IL (PRWEB) September 25, 2013
After two years of hard work to transform the mechanical follow focus, Zacuto is now ready to announce the release of the Tornado Grip and Z-Drive follow focus. In 2012, Zacuto announced the first prototype but then decided to overhaul the designs into the sleeker more streamlined model that debuted at NAB this past April. The Z-Drive and Tornado are particularly suited for Zacuto Recoil rigs where the camera is positioned directly over the operators shoulder.
The Z-Drive is a unique, universal follow focus, designed with single operator shoulder mounted rigs in mind. Attaching to single 15mm diameter rods, it curves away from the operator at a 60 degree angle creating space and distance from the lens for a more comfortable use. The Z-Drive has a slender marking disc to create distance marks for repeatable focus pulls and a standard whip port. When working handheld, the Z-Drive also works with another new product, the Zacuto Tornado Grip.
"With a traditional follow focus the camera operator always had to let go of one of their grips to adjust focus. We didn't like that," says Zacuto Product Designer, Patrick Fee. "So we decided to connect the two things together so there was no more letting go. Now we have a precise way of controlling focus while also providing a solid handle for supporting the camera."
The Tornado Grip connects to the Zacuto Z-Drive follow focus by using a standard whip port. When the Tornado Grip and Z-Drive are used together, they create a mechanical follow focus handgrip-perfect for single operator shoulder mounted work.
To use the Tornado, slide the grip into the Z-Drive whip port by pushing down on the round plunger and pushing the Tornado into the port. Once the plunger is released, it will be securely attached. Grab the horn handle on the scalloped focus wheel and turn to focus. Release thumb and forefinger, ratchet wrist back and grab the scalloped wheel for more range on lenses with a bigger focus rotation.
To check out the Tornado & Z-Drive, visit Zacuto's Online Store or contact a local authorized Zacuto reseller. To get more information on these products click here.
ZACUTO, located in Chicago, Illinois, is known for their "Made in the USA" brand of high quality, originally designed camera accessories. Zacuto Films produces original programming with EMMY's won in 2010, 2011, and 2012 (Midwest region) or follow @Zacuto on Twitter. 888-294-3456.