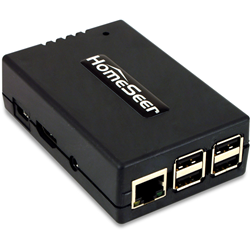 Bedford, NH (PRWEB) January 04, 2015
HomeSeer unveils Z-NET, an IP-based Z-Wave network interface for advanced home automation systems. Z-NET supports the latest Z-Wave technologies and includes a highly optimized antenna design for superior range and performance. Since Z-NET is IP-based, it may be installed virtually anywhere in the home. The unit includes a built-in LAN port and an optional USB-WiFi adapter is also available.
Each Z-NET can be configured to work with up to 232 Z-Wave devices, including light switches, thermostats, door locks, sensors and more. Additional Z-NETs may be installed in larger residences or in properties with outbuildings such as detached workshops, garages, barns or servant quarters.
Z-NET will be unveiled at CES 2015 this week and is slated to begin shipping Q1. MSRP is $149.95. To see Z-NET up close, visit HomeSeer at the Z-Wave Alliance Pavilion (booth 21000). HomeSeer will also be showing newly updated versions of their popular "Control Pad" tabletop touchscreen and "HomeTroller Zee" home controller.
For more information, visit http://www.homeseer.com or contact the company at 603-471-2816. OEM and Dealer inquiries are welcome.
HomeSeer automation systems are designed to work seamlessly with industry standards and products from leading Z-Wave manufactures such as Cooper, Schlage, Kwikset, Baldwin, Yale, GE, Honeywell, Leviton, Linear, Everspring, Evolve, Fibaro, FortrezZ, Aeon Labs, RCS, Ecolink and many more.
HomeSeer Technologies, LLC is a leading provider of home control systems based in Bedford, New Hampshire. Its software and hardware controllers give installers and users the ability to integrate and automate everything in their homes, including lights, appliances, thermostats, door locks, security systems, audio/video, and media content. HomeSeer systems are IP enabled, allowing users remote access from anywhere in the world. Visit http://www.homeseer.com for more information.
# # #