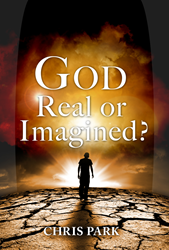 A new book by Chris Park that strives to build bridges between fundamental atheists, secularists and Christians, published by Zaccmedia.
Preston, Lancashire (PRWEB UK) 24 March 2014
Published by Zaccmedia, Chris Park from Lancaster ( http://zaccmedia.com/chris-park/ ) has recently launched his book, "God – Real or Imagined?" to tackle increasing tension in today's society between fundamentalist secularism, which is growing, and the God Question, which is being increasingly dismissed. God – Real or Imagined? approaches both philosophical positions of atheist and believer, getting to the heart of the arguments which is already creating explosive rifts politically between Church and State. Chris Park seeks to calm both sides of the argument through nuanced debate and to encourage dialogue. The book has been released in advance of a new 2014 atheist film, "The Unbelievers" that follows renowned scientists Richard Dawkins and Lawrence Krauss.
Chris Park's book, God – Real or Imagined?, recently published by Zaccmedia, seeks to address deep concerns by the author for the rifts developing in society between an increasingly secular and atheist establishment and those who hold a strong belief in God. Does God actually exist, or is God simply an idea made up – imagined – by humans? This question has puzzled and challenged society for decades. What are the arguments on both sides, and what is the evidence one way or the other? A short video ( http://zaccmedia.com/chris-park/ ) presents some of the arguments.
Chris Park says his book, "tries to address the concerns of believers and non-believers, and set the God debate in a balanced context which appreciates a variety of different viewpoints and the reasons why they hold those viewpoints. The question of whether God actually exists or is just something imaginary probably goes through most people's minds at one point or another. The nature of proof becomes important. What would convince you for example that God does exist, or what would convince me that God doesn't exist? And that is part of our natural curiosity as people."
The former Bishop of Doncaster, the Rt Rev'd C.G. Ashton, states, "In an article criticising Faith Schools, A.C. Grayling a prominent atheist who makes common cause with Richard Dawkins, makes the very good point that, 'young minds…are to be treated with the utmost respect, not twisted into shapes that conform to antique dogmas.' Chris Park's book thoroughly endorses this, and at the same time holds up a mirror to secularists inviting them to recognise this predisposition in themselves."
As the author of various academic books, principally on the environment, Chris Park presents theologians and philosophers from history to illustrate how the question of God has always been an issue. Chris writes, "One of the interesting philosophical arguments about the existence of God was put forward by Thomas Aquinas (1225-1274), the medieval theologian. His argument is quite interesting. Because we think about the idea of God, there must be a God, otherwise we wouldn't think about it. In other words, God puts the idea in people's minds, was his line of argument. And you can extend that, and I think it is a good, powerful argument of why we are naturally curious about the universe, about entity, about the meaning of life. Why do we have this need to dig deeper than just the day to day reality of things? The things we can experience with our five senses; we can touch, see, smell, so on and so forth."
After looking at the 'Death of God' debate, Chris Park examines the different views of agnostics and atheists, and explores why Richard Dawkins and the New Atheists insist that God is simply an invention. Chris says, "People that have read the book have said to me that that it takes the views of atheists and believers seriously, which is what I set out to do. Whilst many people would argue the philosophical arguments about the nature of God are very abstract, I think they do take us into some interesting questions about our lived experience, not just about a philosophical position, but what does it feel like to be human, and why are we the way that we are?"
God – Real or Imagined? (ISBN 9781909824010) is independently published for the author, Chris Park by self-publishing company Zaccmedia, and the book is available at £12.99 in print, Kindle and other eBook editions via all major retailers. Wholesale distribution is with Ingram, Bertrams and Gardners. For more information on book availability contact Paul Stanier at Zaccmedia ( http://zaccmedia.com/about-us/contact-us/ ). The book is directly available from the publisher's website or to order via high street bookshops or online retailers, such as Amazon ( http://www.amazon.co.uk/God-Real-Imagined-Chris-Park/dp/1909824011/ ). For further information about Chris Park visit http://www.chris-park.com.