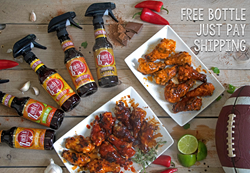 "I love grilling but I hate the heck out of burning my fingers when I baste what I'm cooking. Thankfully, Zach's Wing Sauce has come to the rescue! This stuff is incredible. You just spray it on while you're grilling." - Brad Thompson (STL Cardinals)
Saint Louis, Missouri (PRWEB) January 09, 2017
Wings and football - football and wings. No matter the order, these two words go together seamlessly. Zach's Spray Seasoning, Inc., a family business in the heart of Saint Louis, MO, are doing their part to make sure there is no separation of sport and those beloved morsels of chicken goodness.
Spray the flavor. That's their mantra and their mission, "…empower wing lovers." Empower wing lovers to make a favorite appetizer a year-round staple, make them flavorful, make the experience convenient and make it fun.
Yes, they are breaking with the time-honored convention of tossing wings in sauce by promoting theirs for grilling. Cooking directly on to the chicken sears the flavor into the meat. No superficial flavor here, folks. Not to mention, there's no waste or mess and their sauces cover a ton of wings-6 lbs to be exact.
Five unique, (but not outlandish) flavors packaged in a beer bottle with a trigger sprayer gives grillers the leisure of one-handed cooking. Of course, that leaves the other open for their beverage of choice. Like a grilling tool and a sauce all in one.
Now, is certainly the time to try them out. In light of the NFL Playoffs, they're giving everyone the opportunity by giving away a bottle per customer on their website. Just use the promo code FOOTBALL and they'll send it to you in time for your gridiron gatherings. http://www.zachswingsauce.com/shop.