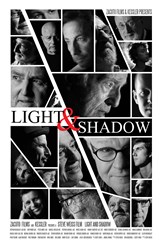 Chicago, IL (PRWEB) November 12, 2013
For the fourth year in a row, Zacuto was honored with Emmy (Midwest Region) wins by the National Academy of Television Arts & Sciences (NATAS). A true labor of Zacuto love, Light and Shadow, won in two categories:
Outstanding Achievement for Informational/Instructional Programming

Steve Weiss, Jens Bogehegn, Scott Lynch, Producers
Outstanding Crafts: Director

"To be recognized for doing what I considered a dream gig, shooting my idols, some of the greatest cinematographers in the world, this was icing on the cake. Thanks to everyone who had a hand in it."

The 2013 Chicago/Midwest Emmys were held at the Chicago Alhambra Palace and hosted by Jerry Springer. In an evening mainly dominated by news stations, Zacuto stands out both for their web based content and for the content itself. Light & Shadow discusses what is at the heart of great filmmaking and in the hearts of great filmmakers. Zacuto is truly humbled by these wins and by all the incredible cinematographers who opened up about their love for the craft in Light & Shadow.
Steve Weiss says, "Every once in a while you get a project that when it's finished you really like it. This was one of those times. By interviewing some of these legends I learned so much about what I'm doing wrong and right. I felt incredibly exciting to win as a team for best docu program but to then to win again as best director put me on the moon. As always, without an audience we have nothing. We want to thank the worldwide indie film community that watches our programs on the web and has supported us from the very beginning. Your support inspires us to do more."
Zacuto would like to thank the Academy for recognizing Zacuto and each and every individual who had a hand in Light & Shadow, both on and off the screen. To read more, visit the story on our website.
"This is incredible. Congrats with everyone involved. It was a beautiful piece and so honored to be apart of

"Wow wow wow....again! Fabulous news and I am just so proud to have been involved again."

ZACUTO, located in Chicago, Illinois, is known for their "Made in the USA" brand of high quality, originally designed camera accessories. Zacuto Films produces original programming with EMMY's won in 2010, 2011, 2012, and 2013 (Midwest region.) Follow @Zacuto on Twitter. 888-294-3456