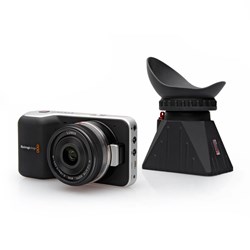 "I've had the prototype of the Zacuto Z-Finder for the BlackMagic Pocket Cinema Camera since the beginning of shooting on Dallas, it's absolutely necessary and makes the BMPCC a necessary part of my shooting arsenal." - Rodney Charters, ASC CSC
Chicago, IL (PRWEB) December 31, 2013
Blackmagic introduced their Pocket Cinema Camera to the market and almost immediately requests for a Blackmagic Pocket Cinema Camera Z-Finder started pouring in to Zacuto. The standard Zacuto DSLR Z-Finders didn't fit perfectly, so it was back to the drawing board to create a new Z-Finder specifically designed to suit the shape and size of the Blackmagic Pocket Camera and its LCD. The Zacuto design team set to work and spent time to find ways to not only increase its potential over competitors but do it at a less expensive price point.
Zacuto product designer, Jens Bogehegn, talks about why developing a Z-Finder for the Black Magic Pocket Camera was a top priority.
"We wanted to make it to help bring the BMPC to its full potential. The Z-Finder aids with focus and frame, particularly when used outside in bright conditions. We also wanted to use the Pocket Camera on proper handheld rigs which is now possible with the BMPC Z-finder."
The Blackmagic Pocket Camera comes packed with features and accessories like a high quality optic lens, easy use adhesive frame, an innovative new eyesight correction diopter set and updated anti-fog covers. Never have a lens fog up again!
Blackmagic Pocket Camera users like Rodney Charters, ASC CSC, who has been using the Zacuto Blackmagic Pocket Camera on the set of TNT's new Dallas, find the Zacuto Z-Finder essential.
"I've had the prototype of the Zacuto Z-Finder for the BlackMagic Pocket Cinema Camera since the beginning of shooting on Dallas, it's absolutely necessary and makes the BMPCC a necessary part of my shooting arsenal."

The Blackmagic Pocket Camera Z-Finder is available for preorder at a reduced price. Visit our website to preorder, watch videos and discover more products from the design team at Zacuto. Also available through any Zacuto retailer.
ZACUTO, located in Chicago, IL, is known for their "Made in the USA" brand of high quality, originally designed camera accessories. Zacuto Films produces original programming with EMMY's won in 2010, 2011, 2012, and 2013 (Midwest region) Follow @Zacuto on Twitter. 888-294-3456