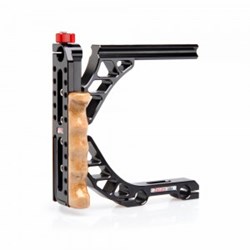 Chicago, IL (PRWEB) December 20, 2013
Zacuto's final release of 2013 is the Half Cage. It is highly adjustable, adapts to any system, and is compatible with any camera. The Zacuto Half Cage truly is the most universal system on the market today. Zacuto owners and product designers, Steve Weiss and Jens Bogehegn, wanted to break away from the camera specific cages already on the market and create a system that would never become outdated. They accomplished this with a rod based cage allowing for easy balance adjustment, exact positioning and varying space requirements.
The Half Cage creates a solid structure around the side and top of a camera rig. It offers great stability and a sturdy side handgrip as well as the ability to add a top handgrip and many other accessories. It can mount in front or behind a camera depending on the balance point of a rig and expands in height as needed. The handle itself is hand tooled, fine, three quarter maple. The Zacuto Half Cage has multiple accessory attachment points including several ¼ 20 tapped screw holes, a quick release 15mm rod port for Zacuto Zamerican articulating arms, and a double sided Z-Rail at the top of the unit.
Video: Watch Steve & Jens Discuss the Features of the Half Cage
Here's what people have to say about the new Zacuto Half Cage.
"I chose the Zacuto Half Cage because of its universal design. I can access the controls on my [Canon] 5D. I can see the LCD screen on top and use function buttons. Other designs I've looked at tend to interfere with this type of access...I know this design will work with just about any camera I pair it with." - Chris Weatherly, One Life Network
"The Zacuto Half Cage has the perfect combination of function and form. The finished wooden grip has the aesthetic of pure class, and it's also very comfortable...The adjustable height is a great feature, we can use it with all of our cameras...The Half-cage saves a lot of time on set. Being able to convert and adapt the rig quickly means more setups in a single day." - Jon Pandone, DP Visual Media
The Half Cage really shines in Zacuto's new Recoil concept. Recoil rigs place the camera directly over the shoulder creating shorter, lighter ENG style rigs. Accessories like the Zacuto Axis EVF mount and Z-Finder EVF Pro connect seamlessly to the Half Cage keeping Recoil rigs compact and all equipment within easy reach.
To find out more about this and other exciting Zacuto products, visit http://www.zacuto.com.
ZACUTO, located in Chicago, IL, is known for their "Made in the USA" brand of high quality, originally designed camera accessories. Zacuto Films produces original programming with EMMY's won in 2010, 2011, 2012, and 2013 (Midwest region) Follow @Zacuto on Twitter. 888-294-3456