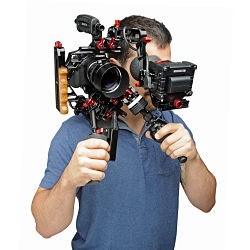 Chicago, IL (PRWEB) December 05, 2013
Zacuto is proud to announce the release of three new rigs to add to their current line of Recoil rigs and accessories: the DSLR Recoil, Sony F5/F55 Tornado Recoil, and UB3 Recoil for video cameras including the Panasonic AF-100, Sony F3, Sony FS100, and other cameras of this size.
Recoil rigs echo traditional ENG style set-ups by putting the camera directly on top of the operators shoulder. This creates a shorter, lighter kit. This 'traditional' spin on new technology can be seen throughout the industry with many camera companies creating removable camera controls which can be used near the camera lens, similar to ENG cameras. As always when it comes to gear, Zacuto is the forerunner, working hard to bring the old and new together to serve the modern videographer.
These rigs are the basic frameworks for all users to start building their own Recoil. All three of these new Recoil kits include the Zacuto Recoil Handgrip Kit. This convenient kit includes a Z-Drive follow focus, Tornado handgrip and Zgrip Z-Mount Zwivel. The Zgrip Z-Mount Zwivel is an adjustable single hand grip for use on the right side of the camera to balance out the Z-Drive and Tornado.
DSLR Recoil
The DSLR Recoil includes our Mini DSLR Baseplate with 6.5" rods, a QR Shoulder Pad, and the Recoil Handgrip Kit. Directly underneath the Mini DSLR Baseplate is the Zacuto QR Shoulder Pad.
UB3 Recoil
The UB3 Recoil is built around the Universal Baseplate. Directly underneath the Universal Baseplate is the Zacuto QR Shoulder Pad. This rig also includes our Recoil Handgrip Kit.
Sony F5/F55 Tornado Recoil
The Sony F5/F55 Tornado Recoil includes our F5/F55 Baseplate, a QR Shoulder Pad, and the Recoil Handgrip Kit. It sets the camera in the correct position so your eye can comfortably reach the Sony viewfinder.
Click here to watch a video which discusses our Recoil Rigs.
With the camera further back over the shoulder, monitoring, focusing and camera control are all moved further forward for comfort and accessibility. To find out more about these new kits and accompanying accessories like the EVF Pro, Axis EVF mount, and the upcoming Half Cage, visit http://www.zacuto.com or your local Zacuto dealer.
ZACUTO, located in Chicago, Illinois, is known for their "Made in the USA" brand of high quality, originally designed camera accessories. Zacuto Films produces original programming with EMMY's won in 2010, 2011, 2012 and 2013 (Midwest region) or follow @Zacuto on Twitter. 888-294-3456.