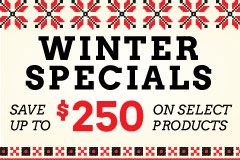 Chicago, IL (PRWEB) December 12, 2013
2013 has seen a flurry of activity at Zacuto with more than thirty individual accessories and kits having been released since January. In honor of this groundbreaking year, Zacuto has put together a set of Winter Specials to thank their customers and showcase the biggest hits of 2013. This past year, the humble follow focus has had a complete facelift with the Zacuto Z-Drive and Tornado. Run'n'Gun rigs have reached new heights with the Marauder and Enforcer foldable DSLR rigs.
From the stunning, meticulous design of new mounting plates to a simple quick release mount that solves an old problem, practically every month this year has heralded a new product and solution from the hardworking team at Zacuto. As the year starts to come to a close, Zacuto is getting ready to sit back and celebrate for a moment until the gears start cranking again for 2014.
Zacuto is offering the following four Specials to run from November 11th 2013, to January 3rd 2014.
Zacuto Enforcer for $400 (Savings of $75)
The Enforcer is Zacuto's smallest foldable DSLR rig. Perfect for catching an unexpected moment and for those who need to travel light.
Marauder and Z-Finder Pro bundle for $950 (Savings of $220)
You won't find a better price for this incredibly popular combination of Zacuto's award winning, tried and true Z-Finder Pro and the foldable Marauder rig.
Z-Drive follow focus and Tornado handgrip bundle for $775 (Savings of $50)
A revolutionary new way to look at the follow focus. This combination is ideal for single operator shoulder mounted work.
DSLR Recoil for $1445 (savings of $250)
This Recoil starter kit for DSLR users includes the new Z-Drive and Zacuto's innovative curved quick release shoulder pad.
These specials are available through Zacuto and with all verified Zacuto dealers. Visit our winter specials page to learn more about these products and specials.
ZACUTO, located in Chicago, Illinois, is known for their "Made in the USA" brand of high quality, originally designed camera accessories. Zacuto Films produces original programming with EMMY's won in 2010, 2011, 2012, and 2013 (Midwest region) or follow @Zacuto on Twitter. 888-294-3456.