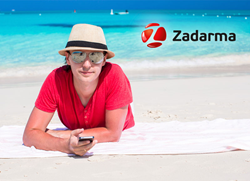 SIM-card from Zadarma is fully integrated with all VoIP services.
(PRWEB) July 14, 2015
Zadarma is delighted to announce the market launch of their roaming sim card. An acclaimed IP telephony expert, Zadarma is a popular name amongst the phone users because of their highly sought-after features such as unlimited calling, per second billing, and virtual numbers. The users of the new Zadarma roaming sim cards will be able to benefit from all the rates and opportunities of VoIP telephony and IP PBX. As part of a special promotion, all buyers of Zadarma roaming sim cards can receive 50% discount on their purchase. This offer will remain valid till the end of July.
The world of telephony has seen extraordinary progress over the last few decades with the advent of VoIP, Cloud PBX, etc. However, keeping in touch with the dear and near ones can still be extremely difficult and expensive while traveling overseas. Repeated change of rates during the change of city and country makes things even more complicated. Most of the times, the Wi-Fi internet connections available at different hotels, restaurants, business centers are not up to the mark. Zadarma claims that their roaming sim cards will offer an excellent solution to this problem.
Registered users of Zadarma will be able to connect their new roaming sim card to their existing IP PBX and phone numbers. Whereas, the new users can activate no-cost IP PBX and phone number within just a few minutes. Users looking for savings can integrate their sim cards with IP telephony utilizing a Wi-Fi connection to receive calls for no cost. In the absence of a Wi-Fi connection, they can continue to make and receive calls via sim card as per the IP-telephony rates.
Some of the most important features of Zadarma roaming sim cards are

Users can carry all their numbers while traveling. They can use IP-telephony on the mobile phone without internet connection (sim card is connected to SIP-login).
Users can connect sim-card to an internal number of PBX and to use all functions of free IP PBX from Zadarma (IVR, calendar, call recording etc.).
Only one tariff plan for calls (both via Internet and from mobile).
Other than making and receiving calls, users can also send/receive SMS and access internet at any point of the world.
No need to buy new sim-card or change settings while traveling abroad.
Use of simple and convenient connection between different sim-cards (same as calls within the Zadarma network).
Apart from the 50% discount promotion, all buyers of Zadarma roaming sim cards in Great Britain will also receive a free mobile number. Using this number, users will be able to receive free calls while roaming in forty countries.
About Zadarma: Zadarma has been an active player in the IP telephony market since the last seven years. The company has the track record of successfully serving hundred of companies in Russia, CIS countries and Europe. The company has recently taken a firm step towards addressing the demands of modern businesses by introducing sim cards for the integration of roaming and IP-telephony.