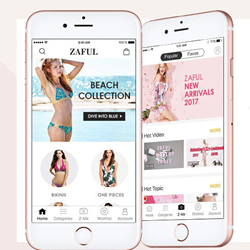 Zaful Reviews Blog Launched to Make Potential Buyers Aware of Six Golden Rules of Online Shopping
Los Angeles, CA (PRWEB) February 25, 2017
Zaful, an online hub for the latest in women's fashion, recently launched Zaful reviews blog and shared six pithy tips to help shoppers get the best affordable clothing online. The owners of the store added that the golden rules of online shopping also apply to other e-commerce sites like ASOS, Sammydress and Rosegal.
Tip 1: Check Zaful's Terms and Conditions
Buyers are now advised to read the Zaful's terms and conditions which can be found on pages like Contact Us, Shipping Info and Return Policy.
Tip 2: Choose the Right Shipping Method
Overseas shipping is more expensive but slower than local shipping. Zaful, therefore, always recommends bulk ordering reducing shipping costs as well as for maximizing the benefits. Free Standard Shipping is now available for orders worth $30 or more. In addition to that, Free Express Shipping is available for orders worth $99 or more.
Tip 3: Check If the Size Is Right
Zaful owners also recommended their buyers through their blog to check if their size is featured on the chart shown for every single item. Buyers can also see the graph which shows how well an item fit other buyers. The can also check fabric type and other details in the product description section.
Tip 4: Don't Panic If the Product Is Not Available at the Moment
If some product is out of stock, Zaful staff will now alert buyers immediately and offer a credit, or update them about availability of the same product from time to time.
Tip 5: Contact Customer Support If in Doubt
The Zaful blog section which was recently introduced also doled out important information about how to get product or shipment queries answered. Customers can now pre-sale questions through online chat. They can also submit questions via the ticketing system, accessible via any user account.
Sidhe Kin-Wilde, a Sammydress customer, said: "If the first shopping experience on Sammydress is not fulfilling, buyers should not hold the idea that Sammydress is a scam or a bad online store, instead they should just contact Sammydress customer service. I've been shopping though this e-store for the past nine months and I've faced a single delivery issue. A parcel of mine was once sent to the wrong country, and it was Singapore Post's fault. I got a full refund by showing the tracking history in my order details, and also got a 10% discount for my next order."(source: Sitejabber)
Tip 6: Avail Benefits of VIP Membership
The VIP member rewards that Zaful offers make shopping even better. Zaful also launched its online community in December, 2016.
For additional information, visit http://www.Zaful.com/me/
Contact:
Name: Jamie
Email: news(at)Zaful(dot)com
Website: Zaful.com, Zafulreviews.com
Phone number: +(1)-888-830-0888