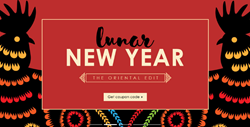 ZAFUL Celebrates Chinese New Year With Women's Fashion Sales
Los Angeles, CA (PRWEB) January 28, 2017
ZAFUL , an online outlet for the latest women's fashions, is celebrating the Chinese New Year, the Year of the Rooster, with a special sale that will continue though the end of February. Through this sale, discounts of up to 17 percent are available.
The sale is offered for three fashion categories:

Oriental embroidery
China Red
Velvet
Free standard shipping is available for orders of $30 or more. Express delivery starts at $9.99.
Oriental embroidery
These embroidery and print styles are featured by many internationally renowned designer brands, including Christopher Kane, and can be purchased through ZAFUL at significant discounts.
Many of these new fashion items are shirts and blouses, which add exciting new elements to simple designs.
http://bit.ly/2jMbFSu
China Red
Red Chinese fashion wear is always in vogue and exudes the joyful aspects of the Spring Festival, symbolizing good fortune and blessing. These chic items include sweaters, tops and swimwear.
http://bit.ly/2j8JRG8
2017 Velvet
Always a popular choice, ZAFUL's velvet fashions feature solemn oriental elements as well as a gorgeous appearance. Camisoles, dresses, slacks and swimwear are all available in velvet, always creating a stunning effect along with warmth and comfort.
With top quality materials for the velvet and superior fabrics, ZAFUL creates an stunning effect, one will feel comfortable and warm when wearing it.
http://bit.ly/2kcn9ic
Daring and edgy
ZAFUL is a one-stop online shop for today's most daring, exciting and edgy fashion apparel – all available at steeply discounted prices.
"Our affordable collections are all about redefining trends, design excellence and exceptional quality to satisfy the needs of every aspiring fashionista," said Sara, ZAFUL's marketing director. "We provide the very latest in compelling designs for the fashionably hip along with providing exceptional value, quality, and superb customer service.
"We also focus on sharing the latest news and fashion trends on women's clothing."
For additional information, visit: http://www.zaful.com/m-promotion-active-chinese-new-year.html
Contact:
Name: Jamie
Email: news(at)zaful(dot)com
Website: http://www.zaful.com
Phone number: +(1)-888-830-0888