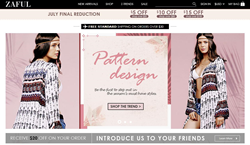 Improvements to Customer Experience and New Promotions on The Horizon at Zaful
(PRWEB) August 01, 2016
The success of Zaful hinges on customer satisfaction. Zaful is taking risks and pushing the edges to keep customers interested and in tune. The company has spent the last 6 months reading through customer recommendations to make sure the aspects people love about Zaful stay put and make the changes they want a reality. On top of the redesign of the front page, Zaful has overhauled the customer service experience. The changes to the Zaful front end and customer service should create a better overall experience for customers. Customers who use the redesigned site now will be rewarded with a new promotion.
Zaful is easier to use than ever with the homepage redesign. The overall style of the site has changed from colors, number of columns, and more. The most noticeable changes to the site come in the form of the navigation and categories. Navigation wise Zaful has made the main page very straight forward. The top of the page has a large banner the scrolls through all the current deals, moving down Zaful shows off 6 dedicated boxes that include trending collection, popular brands, and select products. Further scrolling takes customers to the Zaful Style page, here customers can get ideas or even submit their own pictures of Zaful products. The very bottom of the page concludes with fashions that are in season and chosen by the editor. The categories bar is located at the top of the page and is very minimalistic. There are four categories; New Arrivals which shows all new products, Shop which shows all styles of producs, Z-Trend to shares trending styles, and Sales for those wanting to save money.
To better understand customers Zaful will be expanding customer service with a review system. Each individual product can be reviewed. All reviews are looked over by Zaful customer service representatives and will be used to better Zaful services. Customer service representatives are available 24 hours a day, 7 days a week so someone will always be on hand to read customer reviews.
About ZAFUL
ZAFUL, a subsidiary company of Globalegrow like sister sites SammyDress and Rosegal, focus on all sorts of fashion wear and seasonal wear for women. Zaful houses a number of fashion brands.
Related links: http://www.zaful.com