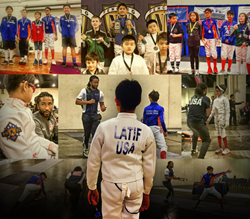 Winning a gold medal, that's the awesome part. But it wasn't easy.
Los Angeles, CA (PRWEB) January 24, 2017
It is evident that it is important to nurture and encourage natural talents if you want a child to achieve incredible performances. Zak Latif is one of those children, being a 10-year-old fencer who managed to win three medals in three events, all of them in one single week. Zak is not like the other children, choosing to train and work hard, balancing getting good grades in school while enjoying traveling to new places and meeting new friends.
The fourth-grade student, at Le Lycee Francais, is training with Coaches Margo Miller and Carla Corbit at the Beverly Hills Fencers Club in Los Angeles, California. Without training and proper guidance, Zak's natural talent wouldn't have been so special, getting him where he is today. This young fencer manages to close 2016 by winning a bronze medal at the Daugherty Youth Cup - SYC/RCC in St. Louis, Missouri, and a silver medal at the Gerrie Baumgart Rocky Mountain SYC/RCC in Denver, Colorado.
If the last year ended amazingly, the new year started even more spectacular, as Zak managed to pull off an incredible performance. He won the bronze medal at the Capitol Clash SYC and Cadet RCC on Sunday, on the 15th of January in National Harbor, Maryland. A day later, without having too much time since the last competition, he managed to get a silver medal at the 2017 South Coast Invitational RYC/RJCC in Long Beach, California. But his ability to amaze us didn't stop here, because, four days later, he won the first place at the SYC in Portland in Beaverton, Oregon.
Rio Olympian Jason Pryor accompanied Zak to the Capitol Clash SYC and Cadet RCC competition held at the Gaylord Convention Center and Resort. The Capitol Clash SYC and RCC recorded nearly 2,000 entries and had over 1,200 competitors, representing more than 70 fencing clubs across the nation and the world. This event was practically the largest Super Youth Circuit and Regional Cadet Circuit tournament ever held in the history of this sport. We can only be amazed by the talent of Zak considering the severe competition he had at such an event, being even prouder that he managed to climb on the podium.
The other matches were quite impressive also if we are to look at the number of entries, not making them any less easy than the previously mentioned. The 2017 South Coast Invitational, held at the California National Guard Armory in Long Beach, received seven hundred forty entries and the SYC in Portland received four hundred fifty entries. In Portland, Zak fenced against fencers from SECA in Shanghai, who entered the competition with their coach Jinchu Chen, the former China National Team Head Coach. These facts made these sport worthy of being taken into account, many well-trained athletes participated and fought for a medal in these competitions.
Zak currently occupies the 2nd position in the US point standings in Y10 men's epee. Rio Olympian Jason Pryor is also an epee fencer, being ranked as the #1 epee fencer in the United States. Zak follows Jason closely and tries the best he could "to fence like Jason." But, let us not forget that Zak is still only a child, having a bright future ahead of him, which makes his experience even more spectacular. The coming six weeks mean a lot of training for Zak, as he is getting ready for the North American Cup with Beverly Hills Fencers Club, with the support of his Le Lycee Francais Coaches, Margo Miller, and Carla Corbit. More than one thousand of the nation's best youth fencers are expected to be present at the competition, making the challenge even more difficult. We will just have to put our faith in Zak, knowing that he will do what he knows best, and that is to be a winner.