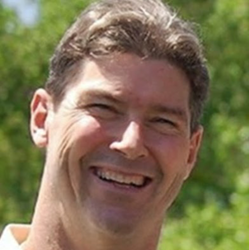 "With the world demographic shift towards populations composed of greater than 25% seniors, artificial intelligence can actually help in finding dignified, non-stigmatized solutions for the health of these Americans."
SAN FRANCISCO (PRWEB) July 16, 2018
Deaths from fall-related injuries account for the largest percentage of reported accidental death injuries among older adult U.S. residents. From 2007-2016, the overall death rate due to falls rose 31%, averaging a 3% annual increase. This means that in 2016, there were 29,668 U.S. adults (an age-adjusted rate of 61.6 per 100,000 population) who died due to fall-related injuries, as compared to 18,334 (47 per 100,000) in 2007.(1) Philip Regenie, CEO of artificial intelligence (AI) healthcare company, Zanthion Inc., says new AI technology must be implemented to identify risks, predict situations and prevent the rise in deadly and expensive outcomes with elderly falls that become unnecessarily fatal for too many older Americans.
Fall-related emergency room visits for the elderly, currently estimated at 3 million annually, are expected to increase at the same dramatic rate, with staggering financial impact. In 2015, added to the $750 million in costs associated with fatal falls, were Medicare's $29 billion paid out for non-fatal fall-related injuries, as well as Medicaid's $8.7 billion and $12 billion by private and other payers(2).
"The costs involved in dealing with the increasing fatal and non-fatal falls are astronomical, but these monetary burdens are only part of the issue," Regenie says. "With the world demographic shift towards populations composed of greater than 25% seniors, artificial intelligence can actually help in finding dignified, non-stigmatized solutions for the health of these Americans."
With burgeoning technology in the form of predictive analytics, GPS and personal emergency systems, deadly outcomes should be decreasing, he adds. The rising number of deaths from falls in this age group can be addressed by screening for fall risk and intervening to address modifiable risk factors such as polypharmacy or gait, strength, and balance issues. Interventions that target multiple risk factors can reduce the rate of falls and can be initiated during annual wellness visits. (1)
As the older adult U.S. population swells (the current 46 million is expected to reach 98 million by 2060), the number of Americans requiring nursing home care expected to increase proportionately—from 1.3 million in 2010 to 2.3 million in 2030(3). Assisted living homes have appeal to a greater number of those who want the structure and community and don't require extensive caregiving. But more and more, seniors are showing a preference for aging in place, living at home and maintaining their social connections while living in familiar surroundings. Modifications can create smart homes for elderly adults which allow them to live healthy, active lives by availing themselves of the latest commercially-available innovations. (4)
"Technology is changing at the speed of thought and can improve the quality of life for seniors—but it will also dramatically lower exorbitant healthcare costs and increase profitability for the ALS industry," said Regenie.
With AI, caregivers can intervene and assess modifiable risk factors such as polypharmacy or gait, strength, and balance issues with seniors. Directors and staff with varied levels of senior living communities can assess the physical surroundings the patient is in contact with. Families can intervene with caregivers to provide insight into the seniors' daily patterns and habits.
"With the growing senior population, there are new technological living solutions that are entering the market today offering better protection for seniors," said Regenie. "And will reduce the real economic burden of long-term care in the twenty-first century."
About Zanthion Inc.
Zanthion is an AI Digital Healthcare Company specializing in the integration of an extensible architecture of sensors, protective clothing and environmental equipment for both Assisted Living Communities and the home—utilizing crowd-sourcing in combination with state-of-the-art smart home and fall-detection technology that radically upgrades the standard of senior care. Zanthion's mission is to create new solutions for senior citizens and their families to enable them to track and detect possible issues and injuries. Zanthion's approach uses technology to provide a better quality of life for everyone involved by accurately assessing what happened, informing the correct resources, providing resources to the problem efficiently, and keeping track of the efficiency of fixing the problem--and in the process being able to predict a fall before the incident, or the need for an aspirin before a heart attack happens. Zanthion offers stylish wearable sensors that automatically notify family, friends, staff, as well as emergency services of need for help. For more information about solutions available to seniors and their families that track and detect possible issues and injuries, visit http://www.Zanthion.com
About Philip Regenie
Founder and CEO Philip Regenie established Zanthion after experiencing the challenges his parents faced in their final years of life. Despite both of his parents wearing the best available calling systems, Regenie and his siblings were frequently interrupted with false emergencies, as well as real ones, while caring for their parents as children should. His personal experience with the indignity of his parents' deaths inspired him to enter the market and invest his personal finance to build a business based on dignity and care. With 35 years working in IT as a programmer, analyst and project engineer and eventually CEO/CTO in military aircraft systems, IOT (Internet of Things) and electronic medical record management, Regenie was uniquely positioned to understand and solve the complex problems associated with senior care. Realizing that no one else in the industry was providing the solutions he knew, from his personal experience, that seniors and their families need today, he decided to create Zanthion.
(1) "Morbidity and Mortality Weekly Report (MMWR)." Centers for Disease Control and Prevention, Centers for Disease Control and Prevention, 17 May 2018, http://www.cdc.gov/mmwr/volumes/67/wr/mm6718a1.htm.
(2) Falls Among Elderly Cost $50 Billion Annually." U.S. News & World Report, U.S. News & World Report, March 8, 2018 http://health.usnews.com/health-care/articles/2018-03-08/falls-among-elderly-cost-50-billion-annually.
(3) "Fact Sheet: Aging in the United States." Population Reference Bureau, 23 Jan. 2016, http://www.prb.org/aging-unitedstates-fact-sheet/.
(4) "Budget-Friendly Smart Home Tech for Seniors & Individuals with Special Needs." HomeAdvisor, 16 Nov. 2017, http://www.homeadvisor.com/r/budget-friendly-smart-home-accommodations-for-seniors-and-individuals-with-special-needs/.