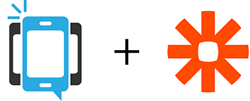 Jupiter, FL (PRWEB) May 28, 2015
DialMyCalls' voice broadcasting and SMS text messaging service has just received a tremendous feature upgrade - Zapier integration. Customers of the service can now utilize the brand new integration to send phone calls and text messages through hundreds of different web applications.
To get started, a Zapier account as well as an account with DialMyCalls is required. From that point on, integrations, also called "Zaps" can be made between DialMyCalls and the customers' app of choice within minutes.
When a certain Zapier trigger occurs via the customer's favorite app, DialMyCalls can then accompany that trigger with one of three actions:
Add A Contact - When a contact is added into the trigger app, the contact information will be automatically added to the customer's DialMyCalls account.
Send A Text - Upon executing a certain trigger from the web app selected, DialMyCalls will send out an automated text message broadcast utilizing a custom message and keyword. Message reports can be viewed from within DialMyCalls.
Send A Phone Call - The integration trigger app can send out a pre-recorded phone call through DialMyCalls when a certain event occurs.
For example, a customer using WooCommerce can select "New Order" as the trigger and then "Send Text Message" as the DialMyCalls action. Once an order is placed and it sees that the billing phone number exists, Zapier will trigger a text message broadcast to be sent to that customer. This integration allows online stores to follow up with customers, offering special deals and offers on future purchases.
The new feature combines Zapier, a seamless integration platform, with DialMyCalls' ability to send a phone call or text message instantly – it gives the most popular web applications the power of automated notifications.
Visit the Zapier + DialMyCalls Integration page for an in-depth guide on how to integrate hundreds of apps with DialMyCalls' mass notification system. For more information regarding DialMyCalls, please visit http://www.DialMyCalls.com. To create and manage integrations, please visit http://www.zapier.com.
About DialMyCalls
DialMyCalls.com was founded in 2006 and has quickly become one of the top voice and SMS text message broadcasting services available. The brand new integration with Zapier offers the ability to integrate with hundreds of apps in a matter of minutes.
For more information, please visit http://www.dialmycalls.com or call 800-928-2086. You can also email tsmith(at)ontimetelecom(dot)com for additional information.
###