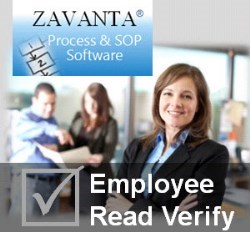 Verification that employees have read and understood company policies is key to protect against lawsuits as well as to comply with many regulatory mandates.
St. Louis, MO (PRWEB) August 27, 2013
"How can I efficiently get all employees to read and sign-off on a policy? Our current process is an administrative nightmare." That was the question posed on an online forum from a frustrated HR manager, and it's a frustration echoed in thousands of companies everyday who need a way to ensure their employees both read and understand their company policies and procedures. Read verification is key to protect against lawsuits as well as to comply with many regulatory mandates, but obtaining and tracking verifications can be a time-consuming and error prone administrative task—requiring manual sign-offs and tedious record keeping. The upcoming Fall release of Zavanta software announced today will provide an easy, efficient answer to this challenge for Zavanta users.
Using existing Zavanta features companies can already create, publish and maintain clear, accurate and easy to understand policies and procedures and make them accessible to their workforce electronically 24-7. With Zavanta's Automated Actions and the upcoming new Read/Verify features, they can automatically email employees to notify them of updates and request verification. Using the new Read/Verify module, employees can simply click a link after reading the policy or SOP and complete the verification signoff electronically. Records go directly into a database for fast and easy reporting and tracking.
According to COMPROSE R&D manager, "We have had numerous requests to integrate a Read/Verify function into our Zavanta software and have implemented it in the upcoming fall release. Without an electronic Read/Verify function, HR and administrative staff would have to circulate and track hardcopy signoff forms for each employee or carry out cumbersome hybrid online and manual processes. For example, if policies are stored in a Document Management system like MS SharePoint®, a typical scenario goes like this: First, copy a link from SharePoint and paste it into an e-mail to each employee asking the employee to click the link, read the policy and then electronically sign the acknowledgement form. Then wait for a response, periodically checking return emails and manually tabulating response. Send out reminders. Wait some more. Do this for hundreds of employees. Obviously, it can become tedious and overwhelming. Zavanta's Read/Verify module automates the notification and tracking process—making it easier and more streamlined for everyone involved."
Since 1987 COMPROSE, Inc. has worked with hundreds of organizations to streamline and standardize their operations. COMPROSE is a single-point resource for any organization that wants to bring more structure to the people side of their business. Hundreds of organizations already use COMPROSE's Zavanta software to standardize operating procedures and best practices. The COMPROSE website highlights client success stories including improved performance, faster ramp-up, reduced training costs, and streamlined regulatory compliance.
COMPROSE Zavanta® software breaks through the limitations of conventional approaches with a faster, better way to capture, maintain, and deliver clear standard operating procedures, policies, training manuals and work instructions that employees actually use and understand--accessible 24/7 from their browsers.
COMPROSE also provides informational whitepapers and authors a series of blogs on operations improvement and training including corporate training best practices, and Policy and Procedure Best Practices focused on getting the highest return on investment.