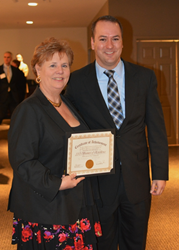 "The companies here today like ZCorum, are focused on producing the technologies of tomorrow and we want to recognize and honor them for their ongoing achievement."
Alpharetta, GA (PRWEB) March 31, 2014
ZCorum, a leading provider of managed broadband services and diagnostics, announced that the City of Alpharetta, Georgia has named ZCorum as a Business of Excellence at the second annual Business of Excellence Breakfast on March 25th. The event, which was sponsored by the City of Alpharetta and Mayor David Belle Isle, honors an elite group of businesses in the city. The event was held at the Metropolitan Club in Alpharetta and attended by 150 businesses that were recognized by the Mayor, Mayor Pro Tem D.C. Aiken and other City representatives. At the event ZCorum received the 2013 Business Excellence Certificate of Achievement for dedication to excellence in 2013.
During his keynote, Mayor Belle Isle recalled the time when Alpharetta had only a handful of businesses and residents and how that has changed dramatically in just the space of a few years. Alpharetta is already home to a third of the state's technology-related companies and more than 600 tech companies are within the city limits. "We have twice as many tech companies as Atlanta and we have the highest concentration of tech companies in the southeast," Belle Isle said. "The companies here today are focused on producing the technologies of tomorrow and we want to recognize and honor them for their ongoing achievement."
"We are so pleased to have received this award from the City of Alpharetta for the second year in a row," said ZCorum President and CEO, Julie Compann. "Last year, Mayor Belle Isle issued a challenge to us to strive not only for business excellence, but also business distinction. That's right in line with our focus on developing innovative technology solutions for the broadband industry and we're so proud to be recognized for our efforts." Compann added, "We've been in Alpharetta since our inception, and are thankful to be part of such a thriving, innovative community."
About ZCorum
ZCorum provides managed broadband services and diagnostics solutions to cable companies, telephone companies, utilities, and municipalities, assisting in all aspects of broadband implementation, engineering and consulting, bandwidth management, network monitoring and diagnostics. ZCorum also offers wholesale, private-labeled Internet services, including data and VoIP provisioning, email, Web hosting, and 24x7 support for end-users, enabling service providers to compete more effectively in their local markets. ZCorum is headquartered in Alpharetta, GA. For more information, please visit http://www.ZCorum.com.