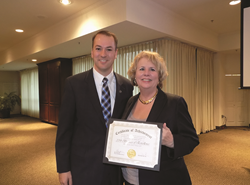 Since the day we opened our doors our team has continued to focus on being a world-class communications company and we're so pleased to be recognized by the City of Alpharetta for our efforts
Alpharetta, GA (PRWEB) March 27, 2015
ZCorum, an industry leader in the deployment of managed diagnostics tools and software for broadband providers, announced that the City of Alpharetta, Georgia has named ZCorum as a Business of Excellence at the third annual Business of Excellence event held today. The event, which was sponsored by the City of Alpharetta and Mayor David Belle Isle, honors an elite group of businesses in the city. The annual Business Awards Breakfast held every March recognizes successful Alpharetta companies that received an award and special distinction in the previous year. The companies are given "Businesses of Excellence" status to show the City of Alpharetta's appreciation for being leaders in their respective industries and going above and beyond. The event was held at the Metropolitan Club in Alpharetta and attended by 132 businesses that were recognized by the Mayor and other City representatives.
At the event ZCorum received the 2015 Business Excellence Certificate of Achievement for dedication to excellence in 2014. Continuing the tradition of the challenge coins, a new coin was minted and awarded to each business as a way of challenging them to continue striving for "business excellence." During his keynote, Mayor Belle Isle expressed his love for the City and shared a brief video of an annual parade and a visitor's follow-up letter about that event. Citing the letter as proof of how one event could bring about change, he challenged those in attendance to visualize ways they could help others fall in love with the City of Alpharetta.
"It is a great honor to be receiving this award for the third consecutive year and to be recognized in the company of other businesses from the Alpharetta Community," said ZCorum President and CEO, Julie Compann. "Since the day we opened our doors our team has continued to focus on being a world-class communications company and we're so pleased to be recognized by the City of Alpharetta for our efforts. We're thankful to play a part in Alpharetta being the Technology City of the South."
About ZCorum
ZCorum provides a suite of broadband diagnostics and managed services to cable companies, telephone companies, utilities, and municipalities. As broadband providers face greater complexity and competition, ZCorum continues to help operators increase operational efficiency and reduce costs, while improving subscriber experience. This is achieved through ZCorum's diagnostics solutions for DOCSIS, DSL and Fiber networks, plus managed services that include data and VoIP provisioning, residential and commercial VoIP service, branded email and Web hosting, along with 24x7 support for end-users. ZCorum is headquartered in Alpharetta, GA. For more information, please visit http://www.ZCorum.com.