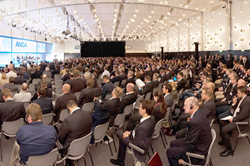 We've had great interest in PreEqualization Analyzer and RF Inspector at shows in the U.S. and Caribbean, and look forward to introducing them to the European market here in Cologne.
Cologne, Germany (PRWEB) May 20, 2014
ZCorum, a leading provider of managed broadband services and diagnostics, announced today that it will be demonstrating two of its newest diagnostic tools, PreEqualization Analyzer and RF Inspector, this week at the 2014 ANGACOM Exhibition and Congress in Cologne, Germany. The show will be held at the Koelenmesse Conference Center in Cologne, Germany. In 2013 the ANGA COM conference attracted 17,000 visitors and over 450 exhibitors and early reports indicate that the show will have an even larger attendance this year.
PreEqualization Analyzer, a Proactive Network Maintenance (PNM) tool, allows operators to find and fix upstream impairments before they impact subscribers. The tool utilizes pre-equalization data from cable modems to identify upstream impairments, including the location and severity of the problem. This insight into the network allows operators to more effectively maintain their HFC networks by knowing where and when to dispatch resources, while benefiting from the improved signal quality inherent in DOCSIS pre-equalization.
"We are thrilled to be able to offer PreEqualization Analyzer to DOCSIS internet providers," said Arthur Skinner, Vice President of Worldwide Business Development, "It is no secret that cable networks are not self-healing. This tool allows cable internet providers to quickly identify and assess network impairments without sacrificing the optimization that Pre-Equalization offers."
The remote downstream spectrum analysis tool, RF Inspector, will also be showcased to providers this week. RF Inspector leverages the latest chipsets in cable modems and set-top boxes that are able to capture the full spectrum passing through the device. "Field technicians today are carrying around expensive, bulky, and sometimes outdated test equipment," said Scott Helms, Vice President of Technology at ZCorum. "With RF Inspector, operators can replace that equipment with an inexpensive app, plus they don't need to roll a truck to see what's going on at the customer premises."
The RF Inspector app currently runs on android-based tablets and is available in the Google Play store. There is an annual fee of $9.95 to use the app. There is also a server-side component that the cable operator must also download. That server software controls who has access to view spectrum with the app, and also communicates with modems in the cable plant that are compatible with spectrum capture.
"We are so pleased to be exhibiting at this year's ANGA COM conference," said Julie Compann, President and CEO at ZCorum. "We've had great interest in these new tools at shows in the U.S. and Caribbean, and look forward to introducing them to the European market here in Cologne."
About ZCorum
ZCorum provides managed broadband services and diagnostics solutions to cable companies, telephone companies, utilities, and municipalities, assisting in all aspects of broadband implementation, engineering and consulting, bandwidth management, network monitoring and diagnostics. ZCorum also offers wholesale, private-labeled Internet services, including data and VoIP provisioning, email, Web hosting, and 24x7 support for end-users, enabling service providers to compete more effectively in their local markets. ZCorum is headquartered in Alpharetta, GA. For more information, please visit http://www.ZCorum.com.