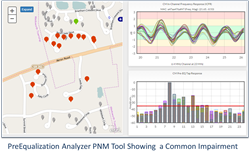 These tools utilize the latest technology and will reduce operational costs and improve plant performance for operators
Alpharetta, GA (PRWEB) March 09, 2015
ZCorum, an industry leader in the deployment of managed diagnostics tools and software for broadband providers, is demonstrating its latest diagnostics applications at Cable Congress this week in Brussels, Belgium. Cable Congress is the annual flagship event of the European cable industry and is attended by cable executives from over thirty three countries around the world. ZCorum will showcase their full line of diagnostics software for industry leaders, including newly developed tools that leverage DOCSIS standards for Proactive Network Maintenance (PNM) and remote spectrum analysis.
Vice President of Worldwide Sales, Arthur Skinner said, "We are really excited to demonstrate these tools to the European cable industry. TruVizion is our diagnostics tool that supports DOCSIS, DSL and Fiber networks. With TruVizion operators can view real-time and historical modem stats, filter modems by vendor and model, see post install reports and VoIP diagnostics, and add or update geocode data so subscribers appear on the map in the right location."
In addition to TruVizion, ZCorum will be demonstrating two new tools that make use of advanced capabilities in DOCSIS. PreEqualization Analyzer is PNM software that allows operators to find and fix upstream impairments before they impact subscribers. Upstream Analyzer is a software-based application for remote upstream spectrum analysis that replaces the head-end equipment operators would normally use to monitor and troubleshoot return path issues in the HFC plant. "These tools utilize the latest technology and will reduce operational costs and improve plant performance for operators," said Skinner. "And most importantly, they are available now."
"Cable Europe is an organization that promotes a strong competitive environment in the interest of advancing the cable industry," said Julie Compann, Chief Executive Officer at ZCorum. "At ZCorum, we are dedicated to creating innovative products that enhance the broadband industry and we are so pleased to have the opportunity to show cable operators at Cable Congress how our next-generation of diagnostics tools can significantly improve efficiency while creating a better broadband experience for their subscribers."
ZCorum will be demonstrating these tools in Stand 35 during the Cable Congress this week.
About ZCorum
ZCorum provides a suite of broadband diagnostics and managed services to cable companies, telephone companies, utilities, and municipalities. As broadband providers face greater complexity and competition, ZCorum continues to help operators increase operational efficiency and reduce costs, while improving subscriber experience. This is achieved through ZCorum's diagnostics solutions for DOCSIS, DSL and Fiber networks, plus managed services that include data and VoIP provisioning, residential and commercial VoIP service, branded email and Web hosting, along with 24x7 support for end-users. ZCorum is headquartered in Alpharetta, GA. For more information, please visit http://www.ZCorum.com.